In the previous article, we talked about what is a makeup portfolio and why it is important; what are TFP shoots, and how to prepare for them.
In order to create a killer portfolio, having great images is just a start. You need to edit and showcase them in a way that makes sense and has a story that your client will comprehend. Let's go through some main points about how you should put together your images.
Editing Makeup Portfolio – What are you showcasing?
In your portfolio you can:
Use a variety of images and styles; or

Determine an area of focus.
In the business world, if you want to find a new job, you have a resume. In the makeup artistry world, you have a portfolio along with it. When starting out, your first resume is pretty short and general, and as you have more working experience, your resume gets more narrative and can be tailored for the specific job posting.
The same goes with a portfolio. Our tip for you would be to opt for a variety of images and styles in the beginning. When you have enough good quality images for one niche, you should make a specialty portfolio. It's not uncommon for makeup artists to have two or more portfolios, each for a different kind of makeup. Like commercial, bridal, SFX, editorial…
If you want to create a niche portfolio, your odds as presenting yourself as a professional makeup artist are much bigger.
First, you have more than one image per type of makeup to present your skills, techniques, and creativity.
Clients will take you more seriously and they would think you are the right fit for them because all of your work showcases the type of makeup they need. It would be a waste of your client's time to go through all the makeup they are not hiring you for.
Editing Makeup Portfolio – Selecting Criteria
Every image in your portfolio must be professional in every aspect — not just the makeup.
Your portfolio is only as strong as the weakest shot in your portfolio and that's what your future client is looking for. They look for the weakest spot in your portfolio because this shows what you consider good enough.
When you are selecting images you should be looking at images from a few different points of view:
How would a photographer look at it? Is the light and composition on point? The photographer would be looking the image as a whole.
You should also consult with a photographer or a retoucher if retouching is needed.
What would your model say about it? Does the model find the pose flattering, does her skin look beautiful, and the expression matching the mood of the shoot?
How does the hair stylist see the image? Does the hair match the makeup?
What would a stylist say about the clothes, does it look good and match the mood of the shoot?
Overall, good images help visualize and sell better.
Do not trust yourself to edit your own portfolio. Reach out for feedback. You may be attached to some work that doesn't fit the rest. Go outside to your friends and family circle for feedback on the portfolio.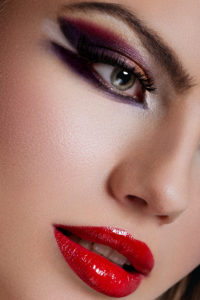 First Impression
The first image should be one that presents the message you want to send and how you would like to be seen as a makeup artist.
It should be STELLAR! The most important thing is to capture the viewer's attention and make them want to flip that page and see more, right?
Use authority to your advantage: If you did makeup for a well-known person or a company, put it first. Any recognizable artist, model, photographer, celebrity, or publication that many people know about.
People trust the decisions that authoritative figures make. If someone sees that you've worked with a big name agency or photographer, they're going to assume you're fantastic. It's just how things roll.
A Logical Order To The Images
You need at least six photos in your portfolio (of six different people), and no more than 15 photos of your very best work. That stays for both physical and online portfolio.
You can go with more images on the online portfolio, but don't do the mistake that many MUA's make: and that is, dumping hundreds of images online, making it harder for the user to navigate the site. The best practice would be to have a main portfolio with a dozen of selected images, and then the rest should be uploaded in different categories. A good example would be at marginadennis.com
Group similar images together, like two headshots, then two close-ups etc to look more organized.
Keep black and white images at the end of the book.
Make sure that the whole portfolio has flow: color and composition wise.
Conclusion:
In the end, you can't build a strong portfolio if you don't know how a strong portfolio looks like.
So do your research and study a top artist's work.
The best portfolios do two things at once: they present your unique style, while also displaying your technical skills and techniques.
Only when you know what kind of makeup artist you want to be does the portfolio can serve to its full purpose. So spend some time thinking about what kind of makeup you want to specialize in and direct your portfolio that way.
As with many things, there's no "right" answer, and you'll need to use your judgment.
Do you have an online portfolio? Share it in the comments, or tag #BeYourOwnBrand on Facebook and Twitter. <3