On the nights when an extra coat of mascara just won't do, bust out a pair of false lashes and turn some heads. If you are applying them for the first time, you may find it a bit difficult. But, I promise it is easier than you think. I promise when you read this, you will be a pro! Scroll down to see all the tips and trick we gathered on how to apply false eyelashes!
First, what's your eye shape?
'Almond eyes' are considered the suit-all strip lash eye shape (this is when your irises disappear into your upper and lower eyelids when you look straight ahead). Not happening to you? Here are some other common shapes and structures, which – of course – come in many variations.
Deep-set eyes; when your eyes are set deeper into the head creating an illusion of a more prominent brow bone. Try lashes that are longer in length at the center of the lashes.
It is important to wear dramatic and long lashes with deep set eyes because the lash can easily be eaten up by the weight of your brow bone and take away from your look,"
Downturned eyes; when the outer corners of the eyes appear to be drawing downwards. Try a shorter strip lash that is longer in the outer corners to lift your eyes.
Hooded eyes; when the crease on your eyelid isn't visible. Try a thin strip lash in a shorter length.
Prominent eyes; when your eyelids appear projected in the eye socket area. Try balancing your top lashes with strip lashes on the bottom, too, which will give the illusion of pushing back your eyes.
Also, consider if your eyes are close or wide set.
Second, what effect do you want to achieve?
Find a place with good lighting and get a close-up mirror. Take a good look at your eyelashes. Do you need more volume, length or definition?
There are so many false eyelashes shapes, and it will help you to know what kind of effect do you want to achieve. If you like a sexy cat eye look, go for the lashes that are longer towards the end. Then again, if you prefer doll-like doe eye, go for lashes that are longer in the center.
These are some common types:
Natural false eyelashes will add subtle fullness and length, for a demure flutter. Natural lashes are perfect for everyday wear, a day at the office or when you're playing it cool.
Dramatic lashes ramp up the volume thanks to a double layer of lashes that overlap each other to create a depth. As the name suggests, dramatic lashes are perfect for any occasion where you want to bring drama.
Lengthening false eyelashes are long yet light, for those of you who like extra length with a natural finish. They are perfect for opening up the eyes and can also be worn with mascara. This telescopic length lash would be great for a dinner date or a spring wedding.
Texture lashes have a twisty, messed-up finish. The criss-cross nature of each individual lash creates a roughed-up, messed up style that creates layers of texturized depth. Boho babes will love them for the messy, unfussy effect that these texture eyelashes give to the eyes. Perfect for festivals, first dates…


Now, apply them!

What you will need:
One pair false eyelashes
Tube of lash adhesive
Small scissors
Tweezers
Eyelash curler
Mascara
Eyeliner
Good lighting
Close-up mirror
2. Trimming false eyelashes
Remove the lash strip from the package and gently bend back and forth. This helps loosen up the lash strip, making it more pliable. Now, place lashes directly above the lash line. Lashes should begin a few millimeters away from the inner corner of your eye. Cut the ends to fit the length of an eyelid with small scissors.
3. Applying adhesive
Put a thin amount on the band evenly but put just a little extra on the ends.
Find a clear adhesive instead of black one to avoid messing up.
As they're drying, bend the strip into a C shape and wiggle back and forth to make band flexible.
Wait for the glue to dry before applying. Depending on the glue and how much you put in it, you can wait from 15 seconds to 2 minutes.
Use a good adhesive, so the lashes wouldn't fall off. One of the most popular adhesives is the Duo Lash Adhesive Clear.
4. Applying lashes
Using either your fingers or a pair of tweezers to put them on.
Find a good lighting and look straight ahead with your eyes open.
Use a close-up mirror to apply them closest to your natural lashes as possible.
Press the center of the false eyelashes, and use tweezers to attach the ends. Doesn't matter which end first.
5. Finishing Touches
To lift them up, use an eyelash curler and press both false and your natural eyelashes. It's a good way to blend false eyelashes with natural eyelashes.
Do it gently and then apply a few light strokes of mascara.
Apply eyeliner to hide lash band if it is visible and finish the look.
6. Removal
Grasp the outer edge of lashes and gently pull up, toward the inner corner of your eye. If the falsies are stuck on your natural lashes, use soap and warm water to dissolve the glue a bit. Once the glue is more pliable, it should peel away more easily.
7. Storing Your Lashes
You might not know this, but—yes!—false eyelashes can be reusable. Make sure not to use any oil-based cleansers on the lash, as that will make additional uses very difficult (adhesive does not like to attach to an oily surface). Peel any remaining pieces of glue off the lash and use eye makeup remover and a Q-tip to clean it more thoroughly. Store your lashes in a clean plastic container and they'll be ready for your next big night out!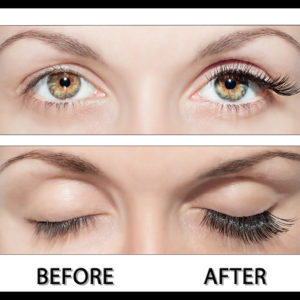 Have Fun!
There are zillions of varieties of lashes, so play around with different looks till you find the one that fits you best!