Swimwear should be fun and make you feel good, but often when it comes to buying and wearing swimsuit it doesn't seems that way.
From curvier frames to athletic body types, EVERY body deserves to be celebrated. It sounds like a cliche, but it cannot hold more of a truth. To feel above all comfortable for under-sun activities, it doesn't hurt to remind ourselves a few guidelines when it comes to choosing appropriate swimsuit for your body type.
RULE NO 1
Know your body type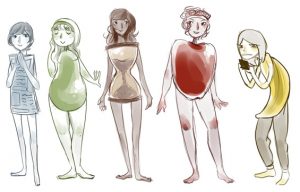 In endless swimwear options, it helps to know by heart what are your best features and what serves them right, so you can know exactly what are you looking for and narrow down to the picks that were made to fit and flatter your frame.
The pear shape: You're curvy at the hips and thighs and smaller on top
Although, these body types tend to this – avoid reaching for a boy short or thick-banded bottom. The extra fabric will only call attention to the area you're trying to mask.
Instead of that, opt for a high waist and/or high-cut – it will visually lengthen your legs and go for the eye-catching top to draw attention upwards.
Small bust
A smaller chest requires less support, so you can play with styles with more minimal coverage or embellished detailing, bows… A smaller bust always means you can wear tiny scoop tops or bandeaus — embrace them!
Athletic
If you are more straight up-and-down, then you should play with bold prints, ruffles, and embellishments and strategically placed cutouts to add feminine flair.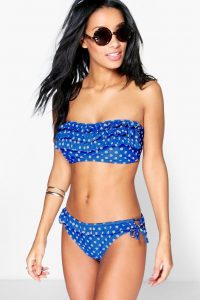 If you're built a little more like an apple shape and carry your weight mostly in your middle…
Choose swimsuits with gathered fabric around the waist, it hides bulges and creates definition in the waist.
Tankinis are made for these bodies or just the days when you want to conceal your tummy.
Curvy
If you are curvy throughout with a full bust, hips, thighs, and butt, you will need support and coverage while accentuating your curvy lines.
The asymmetrical suit that draws the look to the neckline really suits the best on this type of body, so go for it!
As you are slimmer at the waist – accentuate it!
If you are petite…
Look for the low cut the bottom and a top to visually lengthen your torso.
EXTRA TIP : Go with a smaller size if you are not sure, as swimsuits expand when they get wet, more than one experience would say. 🙂
Great style begins with the great fit!