For the Fall 2017 haute couture fashion show, Chanel took over Paris' Grand Palais. From the re-creation of the Eiffel Tower built within the Grand Palais, to the clothes designs (The styling was very Coco) — the collection was as Parisian as it can be. Karl Lagerfeld was honored with the Grand Vermeil medal, by the city's mayor, Anne Hidalgo. The front row was especially star-studded this season with names such as Tilda Swinton, Katy Perry, Cara Delevingne, Kristen Stewart, Claudia Schiffer, Julianne Moore and Mario Testino.
There was a lot to get excited. But our absolute winner is the makeup!
Karl Lagerfeld brought back the elegance of an early 20th-century woman. With every look topped off with a boater hat, the Chanel woman was, of course, confident as always. Tweed suits dominated the catwalk and included lots of full skirts, jackets and shift dresses with boxy shoulders, and lots of structured pleating.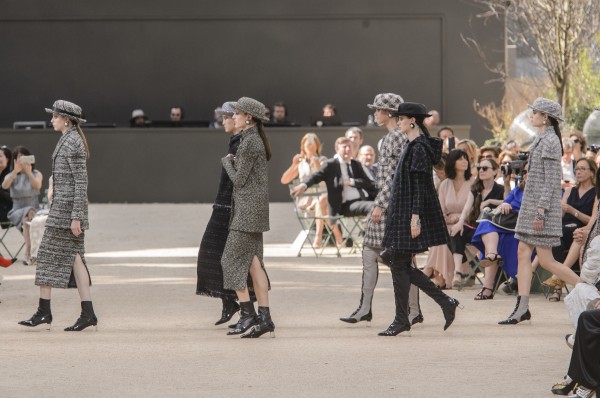 Apart from earrings and a few clutch bags, there were not many accessories – as Coco Chanel famously said:
When accessorizing always take off the last thing you put on
Confident and bold, but a lot less downplayed was makeup. Tom Pecheux created an otherworldly look for the Chanel woman. Every model's look featured an over-the-top jungle colors eyeshadow. Comparatively, that was a bright and welcomes contrast to the previous dark-hued collection.
Pink on the lids, blue underneath the lower lashes, green along the crease. And orange and yellow along the brow bone — each shade blending seamlessly together like the watercolors in a Monet painting.
Sam McKnight created something special to compliment the French-style head-toppers. Poking out from under the hats were long, looped-up ponytails secured in a hairnet that matched the models' natural hair color.