When we heard about Noor Shamma, we knew she was the right person to start off our new interview series with:
A Talented, Successful, Creative Woman.
Noor designs elegant jewelry that is delicate but also bold, timeless yet very modern. You can see her thoughtfulness in the design of every piece of her jewelry. A quality you can see in the process of creation of her art as well – she uses only recycled conflict-free and fairmined metals to produce sustainable jewelry. We asked Noor about how she developed a love for jewelry, what her favorite pieces were, and what the creation process looks like for her.
CM: Tell us a little bit about your background and how you developed your passion for jewelry.
NS: Growing up, I developed a passion for art, architecture, and jewelry at a very young age. It started off with my love to color and draw where I found my happy place in the many forms of art that I relentlessly explored. My grandmother was a seamstress (explains my artistic gene), and it was not long before I got introduced to stitching, needlework, and knitting at the age of 7, which I very much enjoy to this day. Curiosity and passion drive my work as I express myself through a plethora of imagery, texture, and styles, and so I naturally transitioned into jewelry and gradually developed my skill-set. Over two years ago, after receiving my GIA accreditation in Applied Jewelry Professional I realized my passion and talent in jewelry design and decided to evolve this further by launching my very own brand. After many sketches, much experimentation and even more trial and error, I launched my collection which I personally oversaw from inception to completion. I had a vision, a point of view, and I was ready to share it with the world.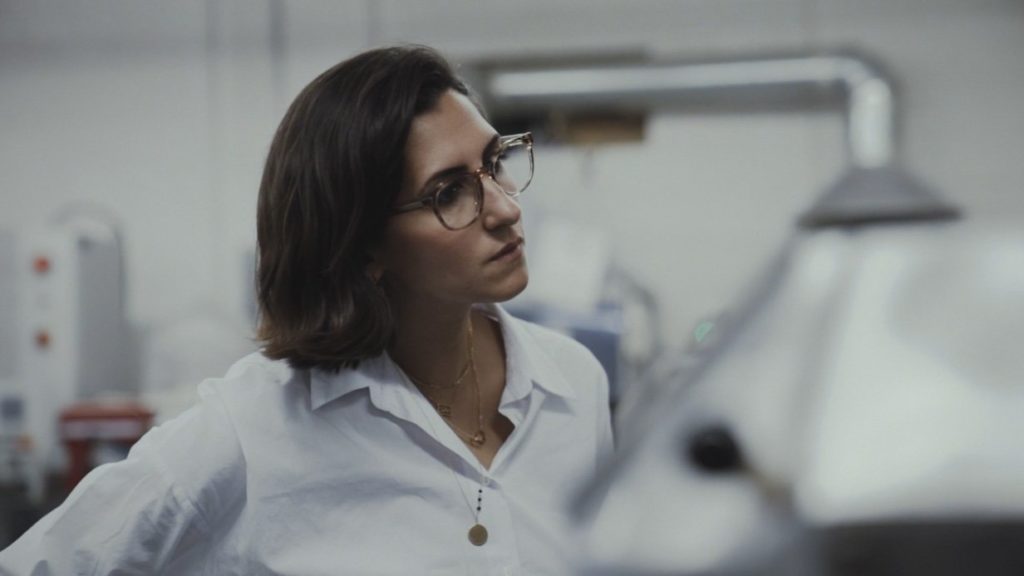 CM: When did you create your first line and what was the motivation behind it?
NS: I've been working on my jewelry lines for a bit over two years before I launched my first collection in January of this year. I value consistency, find comfort in routine, and I am fascinated by the breadth of repertoire – familiarity, flow, and ease. I was therefore inspired to translate this concept into a jewelry collection as I slowly figured out my personal repertoire. Each repertoire is made up of conscious and subconscious life patterns that allow us to experience the world in our own ways and develop our unique perspectives. Sustainably made in 18-karat gold, the signature Répertoire collection introduces a distinctive pattern with multiple adaptations, emphasizing the concepts of identity, versatility, and consistency.
CM: Inspiration for creators come from many places. What are some of the most random and unusual places you get your inspiration from?
NS: Architectural elements, geometric brutalism, distinctive patterns and motifs, embroidery and needlework.
CM: Tell us more about the latest collection and your favorite piece.
NS: My latest collection Luz is inspired by light, a universal symbol of the spiritual and the divine, of hope and illumination. This collection fits right into the core of the brand's DNA, re-introducing architectural elements, geometric patterns, and our best-seller U-hoops which are making a strong comeback with an exquisite twist – introducing a mix of brilliant diamonds, rubies, and emeralds. Each of the pieces is expertly engineered in a way that allows unique multi-functionality through different adaptations, making them perfect day-to-night. My personal favorites are the Luz U-Hoops and the U-Huggies (which I almost never take off lately) – they're so versatile, elegant and fun.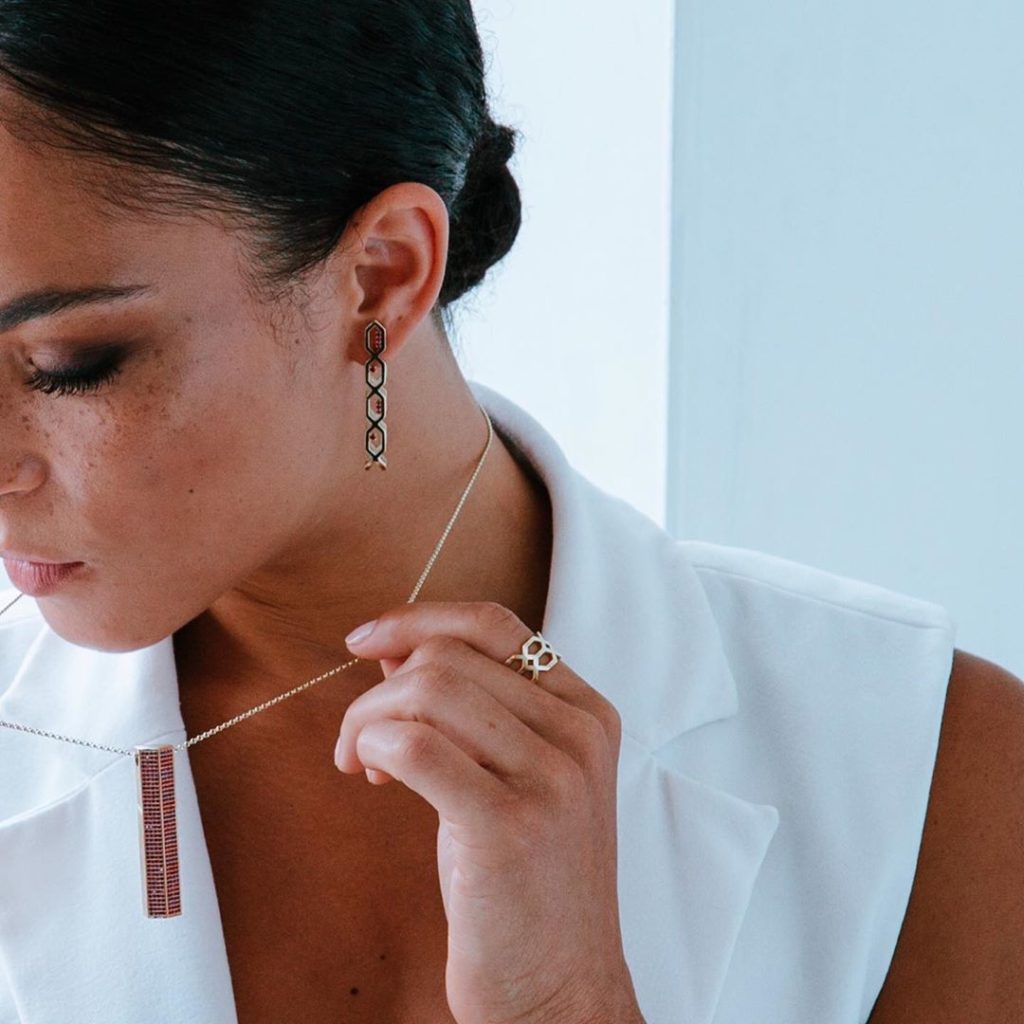 CM: How would you describe a woman that chooses NS jewelry?
NS: Confident, bold, imaginative – a wanderer.
CM: Can you give us a few style tips on wearing jewelry?
NS: The jewelry I design is engineered in a way that makes it very multi-functional and versatile; thus it can be easily layered and works day to night. I personally love layering and stacking jewelry and I constantly choose designs that are distinct with a timeless feel to them.

CM: Can you tell us more about the process behind creating NS jewelry? What does a typical day look like in NS studios?
NS: Busy busy busy; there are many layers to what we do. I solely handle design and concept development right to the teeniest tiniest detail which involves a lot of brainstorming and sketching. Once I shortlist the winning designs I share them with the CAD team for product development to determine weight, functionality, stone setting and so on. Then there's testing and prototype development where sometimes we're good to go and other times we're back at the drawing board either fixing things or killing ideas and starting over. There's a lot of time, efforts and trust involved in the process as a whole before the end product is launched. I have so much love and respect for my team as they allow me to bring my ideas to life.
CM: How does modern technology (ie 3d software) align with the old craft such as jewelry making? Do you think that for an artist these days it is a necessity to be well-versed in modern technologies?
NS: Being well-versed in modern technologies is certainly an advantage but not a necessity. I believe that creativity, awareness (knowledge), a clear point of view (perspective) and perseverance are the real necessities when it comes to artists in our industry.
CM: Every artist comes to a creative block in some way or the other. How do you approach them and get yourself back in the flow?
NS: Truth is, I don't face creative blocks but on the contrary, I have too many ideas. And the real challenge is for me to stay focused, commit to an idea and resist the temptation to jump from one idea to another. Basically, I need to stick to my concept and finish what I started.
CM: What advice would you give someone who is looking to pursue a career as an artist?
NS: Practice, practice, practice.
What's next for NS, and where can people find you?
NS: Many exciting things ahead! The collections are available online at noorshamma.com and we do ship worldwide. We have a couple of stockists in the US and abroad but are currently looking into stocking at multiple outlets soon.
CM: Thank you Noor for giving us this opportunity to learn more about yourself and NS, and thank you for your gracious PROMO CODE for NOOR SHAMMA JEWELRY for our Cosset Moi family ! <3 – It will be featured in our Newsletter along with your interview!

Related: Accessorize: Shine like a Star
Download NOW - The Ultimate Makeup Artist Career Guide
We only recommend products that we genuinely loved. However, when you buy something through our retail links, we may earn an affiliate commission.