There is no adjective that is strong enough to describe our love for brushes and beauty blender sponges! We always buy tons of them, and as beauty addicts, we always find a good excuse to buy new ones: despite that, though, we often end up not taking good care of them. This isn't just less than optimal for the brushes and sponges themselves, it's also bad for our skin, which might get exposed to bacteria and develop infections as a consequence. We are here to tell you why and how you should regularly wash your brushes and beauty blender sponges!
Why (and how) you should wash makeup brushes and your beauty blender sponges:
Why clean them?
Hygiene – Whenever you use your makeup brushes, they are collecting everything that is on your face — namely, oil, dead skin cells, dust, and anything else clinging to your skin. This is a recipe for disaster (or rather, acne). Every time you use a dirty brush, you are wiping this disgusting combination all over your face, clogging your pores as a result.
Longer lasting makeup products – Dirty makeup brushes are also a breeding ground for bacteria. Not only is this terrible for your face, it also is bad for your makeup products. Transferring all these bacteria to your products taints them, and what should have lasted you a year will spoil within months. Also, if you take better care of makeup brushes, they will last for years!
Maintain soft brushes – Dirty brushes become more abrasive and dry as they become more caked with product and debris from your face. In turn, this irritates your skin. Cleaning your brushes regularly keeps them soft enough to not cause damage to your face. The more frequently you clean them, the longer your investment will last.
Better color application – Dirty makeup brushes are also ineffective for applying color precisely. With old makeup caked on your brushes, you are unable to get the look you're going for. Whether that is naturally blended contour or a dramatic eyeshadow.
How often should you wash makeup brushes?
Every two weeks is a good rule of thumb. If they fall onto the floor, or if they touch any dirty surfaces, wash them immediately.
Makeup artist Bobbi Brown has this to say on the subject… "For concealer and foundation brushes, at least once a week to prevent a buildup of product. And because these brushes are used on your face, the cleaner, the better. Brushes that are used around the eyes should be cleaned at least twice a month, while all others can be washed once a month."
How to wash makeup brushes?
It's very easy. Clean brushes with dedicated brush cleansers, with soap for delicate skin, shampoo, cleansing milk. All you need to do is lather them well with soap, and rub them against your hand. Do that with a circular movement. Pat-dry them with a towel, and then place your brushes horizontally. You don't want water to come into the handle as it will dissolve the glue holding the bristles. We recommend you try Sonia Roselli's Tiger's Eye Brush Soap.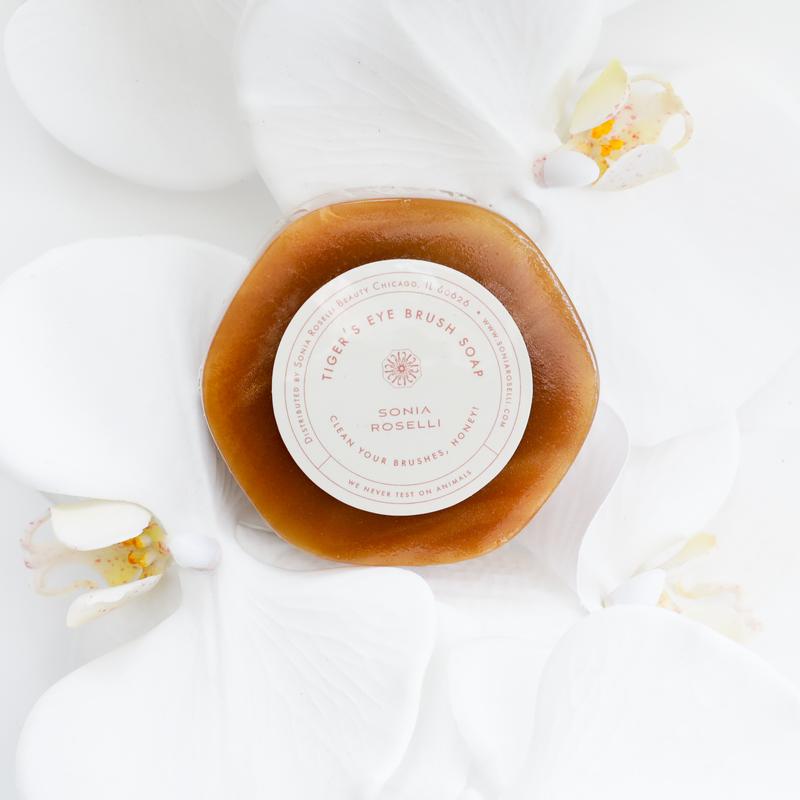 How to wash beauty sponges?
Place beauty blender sponges in a container full of warm water and detergent to soak. They should be lathered well about half an hour later. Once you do this, you can wash your sponge under running water, until your foundation leaves no trace on your tissue. Just like large brushes, sponges will need a little longer to dry… But it will be worth the wait, you'll see when you use them next time!