What do you get when you combine world-famous beauty brand created by one of the first female entrepreneurs with one of the coolest and most stylish celebrity designer? Gorgeous makeup collection you can't live without!
Estée Lauder and Victoria Beckham joined forces to create fourteen-piece limited edition collection. The collection is perfect for the fall, with deep and rich colours, handpicked by Beckham and organised into four subsets, each named after her favourite cities.
Beckham has been hoarding the makeup she has loved since the age of eighteen and mixing colours for perfect shade ever since. She carefully curated an array of key pieces that every woman should have in her makeup bag, the very one she was trying hard to find over the years. The packaging is super classy, with the gold on the makeup compacts perfectly matching the hardware found on her bags and accessories. The very cool detail is that the eyeshadow palette design was inspired by Victoria's collection of vintage cigarette cases.
"I want to make women feel empowered, to feel sexy and confident. This makeup collection does that. I am a girl's girl, I love to make women feel like the best version of themselves." – Victoria Beckham
Collections: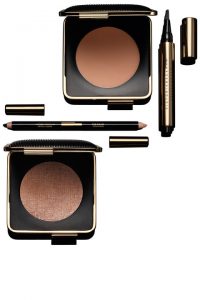 LA Look: "Perfectly sun-kissed skin. Youthful nude lined eyes. Fresh glossy lips."
Bronzer in Java Sun
Lip Gloss in Morrocan Heat
Eye Kayal Duo in Black Saffron/Vanille
Highlighter in Modern Mercury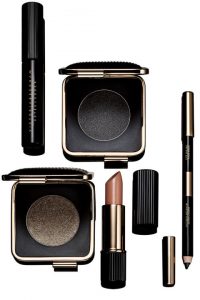 London Look: "Intense black eyes defined with liner. Oil-slick shadow. Flecks of gold. Nude polished lips."
Blonde Gold(Eye Foil)
Eye Ink in Black Myrrh
Eye Kayal Duo in Black Saffron/Vanille
Lipstick in Brazilian Nude
Eye Metals Eyeshadow in Bitter Clove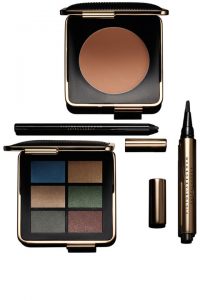 New York Look: " A bold sapphire eye. Luminous skin contrasted by matte bronze. Nude glossy lips."
Bronzer in Java Sun

Lip Gloss in Morrocan Heat
Eye Palette
Lip Pencil in Victoria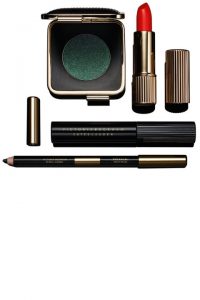 Paris Look: "Matte, sunset red lips. Eyed lined in charred emerald and edged in charcoal foil."
Eye Metals Eyeshadow in Charred Emerald
Lipstick in Chilean Sunset
Eye Foil in Burnt Anise
Eye Kajal Duo in Black Saffron/Vanille
*MEANT TO BE WORN SMUDGY WITH THE CONFIDENCE TO BE IMPERFECT <3
If this is her first-ever makeup collection, we can't wait to see more of Victoria Beckham in the beauty world.
*The Victoria Beckham for Estée Lauder collection is currently available in Canada at select Hudson's Bay stores and thebay.com as it was sold out in hours on official Estée Lauder e-commerce site.
Like what you are reading? See more Beauty Stories on Cosset Moi!