Hollywood stars love it! This technique is updated and enhanced classic smokey eyes look. All you need is a bit of shimmering shadow to elevate smokey eyes on a whole another level.
The part of the skin, just below the line of lower lashes, often neglected in makeup routine is now the main focus point!
Instead of the black eyeliner line, makeup artists are using the new technique using shimmering eyeshadow which promises the effect of bigger eyes.
By opening your eyes, your look will be more seductive…
It is enough just to apply a little bit of shimmering eyeshadow. With thin strokes of the appropriate size brush, and gently tap on the skin below the lower lashline.
It should look as natural as it can, so don't follow precise moves that are usually needed for applying eyeliner.
Related: Everything You Need To Know About Glitter Makeup
So besides the magic effect, this is a very simple trick to do.
In addition to your eyes looking bigger, another advantage of this technique is that you can use it for every occasion – from day to night.
Of course, in that case, you should watch on the color of the eyeshadow.
For daily occasions, it would be ideal to use earthy tones – mild orange, brown, or green.
For the night use can use darker shades of gray, blue, purple…
Makeup artist Patti Dubroff does this kind of makeup on Margot Robbie, Allison Williams, and Priyanka Chopra. Then explains why a little portion of shimmering or glittering eyeshadow makes wonders.

Matte tones give the definition, while eyeshadows enriched with pearlescence have the power to open and highlight the eye. Shimmering eyeshadows is the best to apply in the inner corner of eyes and central part below the lashline.
When she did makeup(see image below) for Priyanka, Pati used matte eyeshadow. She defined the shape and then shimmering eyeshadow in peachy bronze applied on the inner corner. Also a little bit below the lower lashline.
Here are some great eyeshadow palettes that can add sparkle to a variety of smokey eyes color…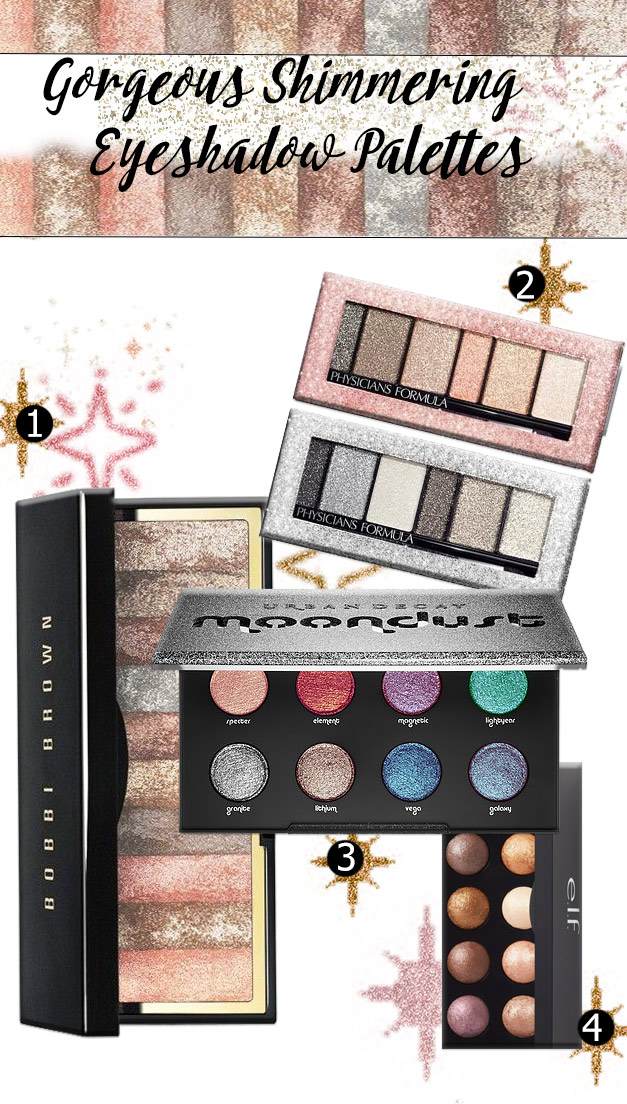 1 – Bobbi Brown Sequin Shimmer Brick eye palette
2 – Physicians Formula Shimmer Strips Custom Eye Enhancing Extreme Shimmer Shadow & Liner in Nude and Smoky
Follow us on Pinterest for more amazing beauty tips!<3