There is something about a beautiful manicure that just looks and feels elegant. For a fraction of the cost, in times when the favorite salon is full until the end of the month, you can do a manicure at home in your own time, to be ready in case of emergencies.
What you will need:
Nail polish remover and cotton swabs or pads
Nail clippers
Emery board and nail buffer
Cuticle pusher and nippers
Hand/nail moisturizer
Base Coat
Nail polish
Top coat
1 – Clean
Obviously, the first step you should do is to remove your old nail polish. Prepare a bowl of warm water, add soap, or if your nails are looking yellowish instead of soap squeeze lemon into it. After a few minutes, wash your hands and if there is any remaining nail polish left, use a cotton swab to remove it.
2 – Shape
Use straight clipper if you are going for a square shape of your nails, or rounded one if you prefer your nails more of an oval shape. A slightly rounded nail shape or square-rounded edge is generally the best way to go but you can be as creative as you want. File your nails to ensure they are perfect shape before you paint them. Do it in a long swooping motions from side to side. You never want to go back and forth, you will just ruin your nails that way.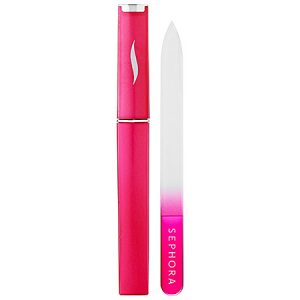 SEPHORA COLLECTION Crystal Nail File
3 – Nurture
Cuticles, cuticles, cuticles. Once they are shaped the way you like it, go over cuticles with some cuticle oil. While it's on gently push them away to make space for nail polish. Be careful NOT to pull, lift, tear, rip, force, or cut into the cuticle in any way. Do NOT clip into the cuticle; merely nip off the free edge with a pair of metal cuticle nippers. It's better to under-do this step than to overdo it because the cuticle helps protect the nail bed from all sorts of problems.
This step will make your nails longer and cuticles healthy. Massage your hands with a rich cream or oil. Make sure the oil stays for a couple of minutes, and then wash your hands with soap thoroughly to make sure there is no oil left on your nail beds or else your nail polish will chip much more easily.

4 – Protect
Apply the base coat. A base coat is a secret to making your manicure lasts. It protects the nails and they do not get as yellow as they would do without it.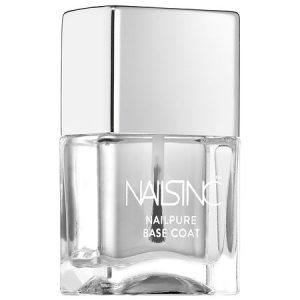 5 – Paint
Now, paint! Go slowly and paint little by little, and leave parts along cuticles showing, to make sure not to paint your cuticles as you will never get it off completely. Don't worry about it, as no one is going to see that. Apply two times for a nice opaque look. If you don't find this so easy, don't go overboard with colors! Use a neutral shade so you can have nicely cared for hands, and fewer problems when the varnish starts breaking. If you don't want to go neutral, then go for fun!

6 – Finish
Seal the deal. It makes nails instantly shiny and smooth and happy.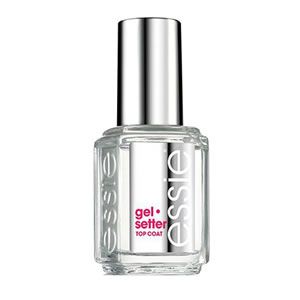 Now be patient and wait for nails to fully dry, and then re-apply your hand moisturizer.
The most important part is to relax and don't expect yourself to give yourself the best mani ever. If you make any mistakes, they can probably be fixed, the one nail you messed up can be done again. The more you practice, the better you will become, until you'll be home manicure black belts! 🙂
Follow us on Pinterest for more amazing tips!<3
We only recommend products that we genuinely loved. However, when you buy something through our retail links, we may earn an affiliate commission.