Fashion and makeup partnerships seem to be a worldwide trend lately. Collaborations seem to be the new way of placing products high on bucket lists. However, associations in the fashion arena are more than a new marketing trick, as collabs were always there. Be it for a new line promotion, top season campaigns, launching new products or building a portfolio. Professionals choose to team up to create a shared vision that will help them promote all they can offer.
The idea behind the collabs today includes traditional associations of creative professionals who were always a natural pairing in the industry. Such are photographers and models. But it also includes new approaches: co-branding or collaborating with influencers, who are the latest innovative force out there. Social media is an essential factor for both product placement and creating an appealing image. It is no wonder the foundation of collaborations in the beauty and the fashion world has extended. As a result, we have a broad spectrum of associations in fashion. Which includes brands, models, product owners, designers, photographers, makeup artists, influencers and everyone in between.
To attract the right audience and make their products top merchandise, every professional must work with others who share the same vision.
We are presenting to you some of the most basic types of collabs in fashion and makeup world out there.
The magnificent duo: Brands & fashion designers
Behind every brand's name, credibility and identity stand creative designers. They work hard to keep that name ranked high on the market each season. However, it seems that independent designer collaborations with brands became the new element that adds more credibility to this naturally established arrangement. It is all about bringing different types of unique together and creating something original as a result. We have seen many examples of strong associations between famous designers, fast fashion or high-end brands. The number keeps going up, but what's in it that draws so much attention?
To truly stand out from the crowd in any fashion branch, it takes much more than teamwork and dedication. As it is always the bold and innovative ones, who get the most out of collaborations. Innovation. Originality. New ideas. This seems to be a new ticket to success, as designers who collaborate with fashion and makeup brands use this smart way to draw more attention to their style and vision. While brands in return get a fresh new look. The key to this collaboration lies in innovation. While designers who work for a brand have an established pattern to follow, joining forces with independent designers brings a new vision that sells.
The new ingredient: When influencers team up with brands
While brands can't survive without talented fashion designers, influencers seem to be a unique ingredient to this mixture. They are essential for product placement and increasing visibility on social media.
We commonly see brands getting more worldwide recognition through association with influencers and for a good reason. We are free to say that collaborations with influencers are the present and the future of marketing in fashion.
Influencers in the fashion and beauty industry get a lot of public attention. And many brands know how to use this for mutual benefit. Whether we are talking about micro or mega influencers, what they offer to a brand is a clear path to profit. The larger the number of followers, the more people will see the advertised product and buy it. Paid partnerships with influencers are a great way to present new products, promote collections and attract customers subtly. In return, influencers gain more traffic to their blogs and profiles, more income and more popularity. This is why choosing influencers wisely can make a big difference. The best examples of such collaborations we see between brands and top socialites and young social media stars, whose names solely bring success.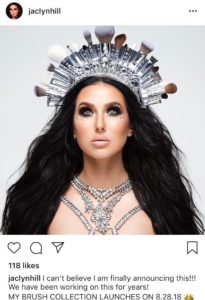 The Jaclyn Hill x Morphe Brushes Collection
Co-branding: The alliance of brands for success
This marketing strategy includes two different brands which pair up for a double win by combining strengths with one goal. And that is to reach new markets. Co-branding in fashion, or cross-branding, is a way of building the business in the fashion industry. That helps both brands do precisely that, find new markets, get more popularity and increase distribution. The trick here is to find a medium for audiences/consumers of both brands. Something both brands have in common so they can both benefit from such a partnership.
This is a great way to achieve goals both parties couldn't produce themselves. Whether it is popularity, increased income or efficient product placement. Co-branding isn't limited to fashion and makeup brands only, and we frequently see two completely different branches combined. These are partnerships between fashion and gadget brands, sportswear, cosmetic brands, beverage brands, fast fashion and many more. Options are limitless. A brand partnership has a few key benefits, such as extended reach for generating better sales and reputation.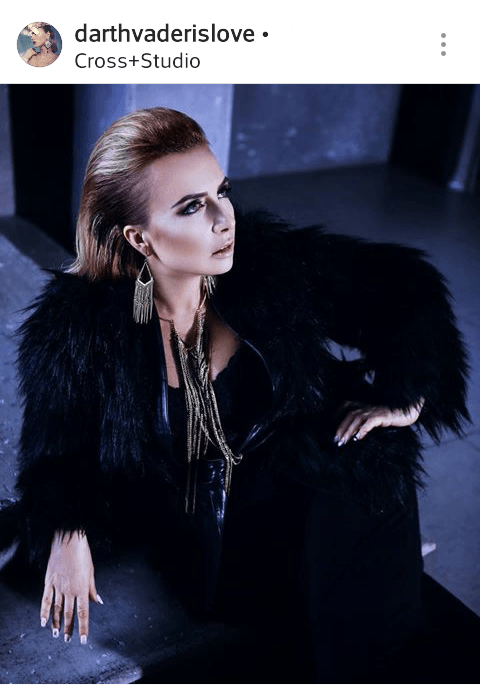 When Makeup artists & Influencers team up with Product owners
From beauty masks, eyeshadows, makeup brushes and eyelashes to face exfoliators. Product owners can benefit from working with makeup artists and influencers in many ways. Today, there is no better way to advertise a product than through association with makeup artists or influencers. And here is why.
Product owners, especially in beauty branch need makeup artists who are bold enough to draw attention to any product. Whether it's makeup brushes or jewelry, a good makeup artist knows how to make each product pop. In return, such collaboration earns makeup artist a higher rating and promotes their name.
Influencers have the same power, and they stand side by side with makeup artists when it comes to popularizing a product. As there are many, who discover new favorite brands thanks to social media. Fashion and cosmetic brands can benefit a lot from working with them, as they know precisely how to present a new product in a creative and eye-catching way. This draws more potential customers, more profit and more recognition for both sides.
Collaborations and photographers: Behind the lenses
Photographers have a great spot in the fashion and makeup world. They collaborate with models, makeup artists, brands and stylists. Collections may radiate brilliance, but it is photographers who make the difference in how buyers see it all. Because, in the end, it is effective, eye-catching photos that sell.
They work with models, stylists & makeup artists…
Models and photographers collaborations are a natural match. The artist behind the lenses knows how to accentuate all best features a model has and how to visualize a concept. Such partnerships usually serve for portfolio purposes and are immensely talented. As both photographers and models benefit from this match in terms of recognition and improved ranking.
But, a portfolio is not the only thing that brings them together. They also collaborate for purposes of campaigns, advertising, and promotions… Always teaming up with more creative minds, such are designers, makeup artists, stylists, and other creatives. In such cases, photographers work with models, but they are together a part of a larger group of professionals. In the fashion world, it is photographers whose names stand behind every cover of a magazine and every advertisement billboard. And models are their muses.
Photographers are all about visual elements and can give a unique approach to other professionals. Since they know how to make things look more appealing to the eye, thanks to their experience and skill. They know how to put the ideas of makeup artists and stylists into practice. Which is why it is so vital for them to collaborate with photographers who share their aesthetic sensibility. This is especially important for young artists who are just climbing their way up to the top. Because they have to build a representative image, where the right photographer can help them with this a lot.
… and with brands and product owners
We are all pretty visual, and when we buy products online, we exclusively go for those items that look good on the picture. Or in other words – how products look matters. An experienced photographer can not only raise product value thanks to their skill to present a product from the best perspective, but can also help brands and product owners get more traffic to their sites, and that sure is a ticket for success.
It is a known fact that well-captured fashion items get purchased more. And since product photography is all about visual branding, it is clear that hiring photographers who know how to handle lighting, shooting and editing can bring desired attention to the product.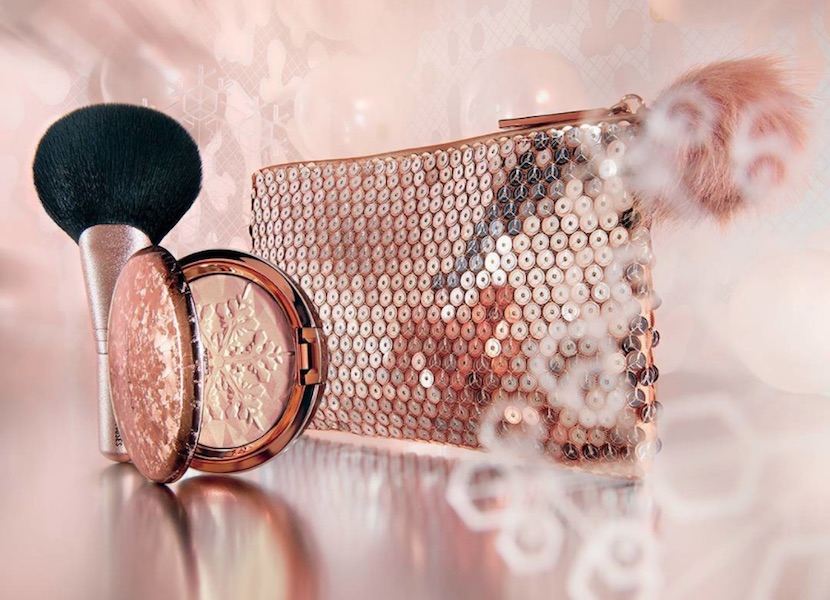 M.A.C.
Makeup artists: Who they collaborate with?
Makeup artists collaborate with many professionals in the fashion and beauty arena. The list is really long, and product owners, stylists, models, and photographers on top of it.
It's all about the look: Collabs with models and stylists
The association between stylists and makeup artists is another natural blend of creative minds in the fashion world. Professional makeup artists know how to maximize the facial features of any model. They know how to use the uniqueness of every face to bring out the beauty in every model. They know there is a difference between runway and photo shoot makeup. That is why photographers can always rely on their skill for the best possible results, while models can rest assured they will get a makeup worthy of a portfolio.
When it comes to collaborations with makeup artists and stylists, it is all about finding a shared vision and getting a result worth admiring. Their teamwork is always focused on looks and aesthetics. While such associations are always part of fashion and makeup campaigns, models, makeup artists and stylists make collaborations on the side too. Usually for portfolios, as we frequently see these associations among freelancers in the fashion industry.
Model and collaborations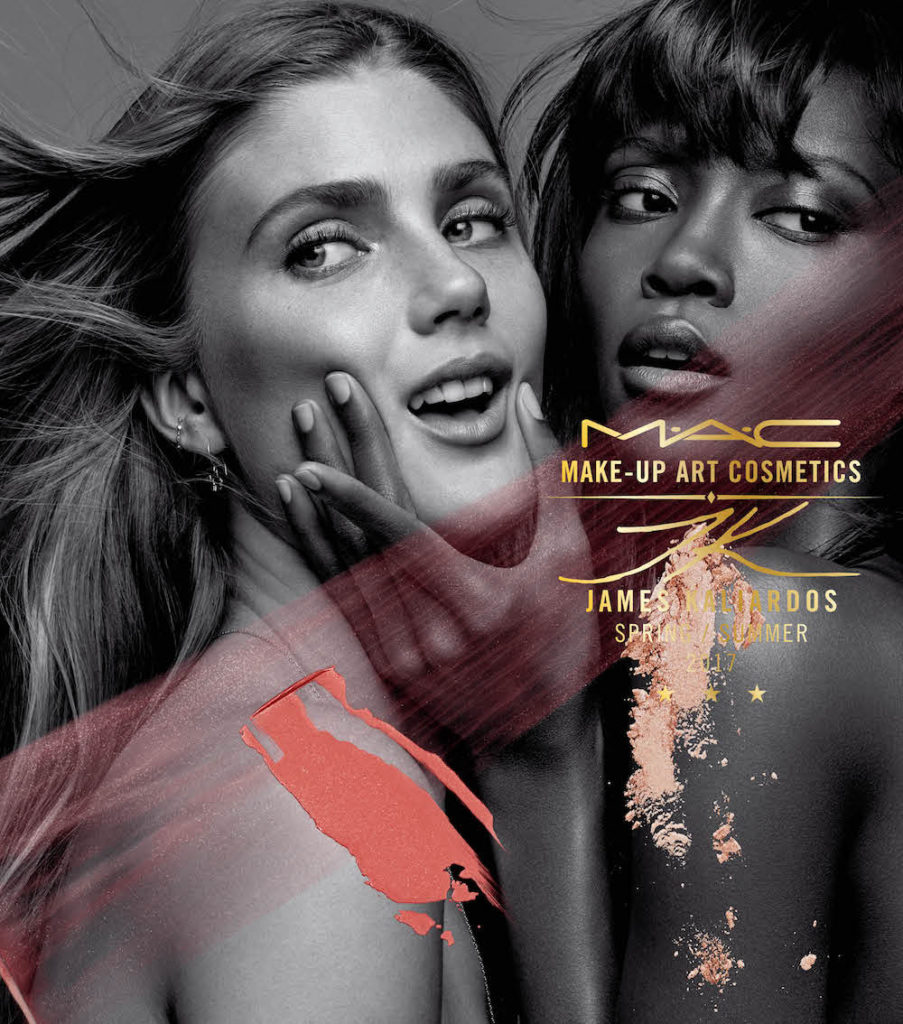 M.A.C.
Whether we are talking about a freelance beginner or a high profile name in the industry, most of the collaborations in fashion world revolve around models. We have already explained some of the roles models have when it comes to partnerships, and we are just about to extend this list for one more – the collab between models, designers, and brands. Two main areas where models and brands (or designers) work together are the runway and photo modeling.
Many high-end models reached the tops of their careers after becoming the new face of a brand. Photo modeling works are crucial for fashion and cosmetic brands in many ways. The main focus is always advertising what the brand has to offer, and this goes way beyond simple advertising. It also includes photo shoots for the brand's website, pre-launch campaigns, brochures, pamphlets and more.
The possibilities of collaborations in all fashion and beauty branches do not end here. But it is these significant associations that make the base for developing more ideas. In the end, it seems that the revolution in this world always starts and ends with innovation. And ultimately teamwork towards a shared vision.