Summer is officially here and it may be just the right time that you look up on some of the interesting summer nail art designs that you can possibly paint for yourself. Summer is always the start of bold and bright colors and here are some of the trends we liked the most.
If you're someone who loves getting into the trend and trying something new then you should definitely start getting into nail art.
# 1 Powerful stripes
From the Sonia Rykiel show we know: This summer the best are colorful stripes. They look irresistible on the nails even when you use transparent polish as a base. If you can't be sure that your hand is going to be still while you draw them, you can choose a simpler method – get nails stencils with stripes and just polish them in colors you desire.
# 2 All Aboard
You can also incorporate your stripes in nautical themed designs. There are endless possibilities of how it can look depending on the colors used, the shape of the nail and your imagination, from playful to almost royal feel to it.
#3 Colored Tip Nails
This is a great summery vibe and simple to do. It looks effortless and stylish. The base needs to be a neutral color so the emphasis is drawn to the nail tips and not the base.
#4 Dots, Dots, Dots
A dotting tool makes the novice nail artist look like a professional and can be used to dress up your tips with hundreds of different dot patterns. Get yours and meditate by creating and looking at bokeh or mandala-inspired patterns. Playing with dots are ideal nail art for short nail as well.
#5 Holographic Nails
Shine bright like a diamond with this major trend – get your shiny transfer foils and reflect summer vibe!
We recommend these products:
3. Long Lasting Nail Polish In Neon Colors
6. Dotting Tool
Let us know in the comments which are you like the most! 🙂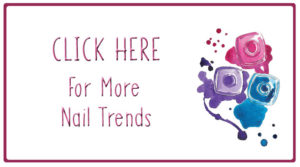 Featured image courtesy by Brit.Co