When we hear haute couture, most of us have a vague idea of what it really is. We know it is grandiose and to the most unreachable fashion parade.
Yet, to the people in the fashion industry, it is a magic formula!
A concept that combines flawless craftsmanship, visionary design, and that special catwalk in Paris, that everyone is talking about in months before and after.
Haute couture literally means "high sewing" or "high dressmaking" or "high fashion". But there are many misconceptions of what is considered to be haute couture. Most commonly spread is the idea that every piece of clothing that is handmade is haute couture – whether it is made by a student of fashion design or seamstress at Chanel. Obviously it is not, as everyone could easily produce haute couture and there wouldn't be any buzz around it.
Believe it or not, it has an exact definition and it is a pure legal matter.
What is Haute Couture
According to Wikipedia, the term haute couture is protected by law in France. It is defined by the Paris Chamber of Commerce (Chambre de commerce et d'industrie de Paris).
To earn the right to call itself a couture house and to use the term haute couture in advertising, a fashion house must follow these official criteria, designed all the way in 1945:
Design made-to-order for private clients, with one or more fittings.
Have a workshop (atelier) in Paris that employs at least fifteen people full-time.
Every season, present a collection of at least 50 original designs to the public, both day and evening garments, in January and July of each year.
Who are haute couture designers?
Each year the Chambre Syndicale de la Haute Couture draws up a list of official couture houses that meet those specifications. No brand, no matter their prestige, can circumvent the guidelines. So the list can and does change.
Even this elite selection has a hierarchy. Besides official members – French powerhouses such as Chanel and Dior, The Chambre syndicale also recognizes foreign grands couturiers – so-called "member correspondents". Those are Armani, Elie Saab, Versace, Valentino, Giambattista Valli. Also, there are "guests"(new talents) like Zuhair Murad, Ralph & Russo…
Runway Shows
Haute Couture shows are artistic spectacles. With elaborate set designs and invite-only guest lists, these shows are as exclusive as the pieces themselves. Haute couture lines don't show at the four big fashion weeks around the world, but they do have their own fashion week. One is held in July, and the other in January. Of course, both are held in Paris. Collections are presented every 6 months, half a year in advance. The Spring/Summer collection will be presented in January, while the Fall/Winter collection will be presented in July.
Beside press, shows are mostly populated by clients, especially the ones with the highest profiles.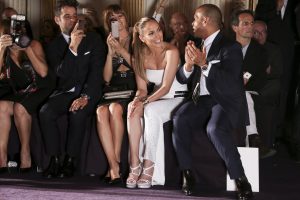 Related: Our Top Looks From Paris Fashion Week for Fall 2018
Ateliers are the core of couture
It can take over 700 for creating one haute couture piece. They are made of the very best materials and created by the most accomplished craftspeople. Garments are fitted to an individual client's shape and then sent to workshops to be embroidered, beaded, and feathered. No more than ten examples of any particular design are ever made.

Karl Lagerfeld knows how important the ateliers are. He honored its atelier at FW 16/17 fashion show, where scenography looked like the backroom of "petits mains". He is also over the past decade invested in purchasing all of the traditional small artisan houses in Paris. Therefore, Chanel is for sure the biggest haute couture brand in the world. Take a look at this inspiring video to get idea of how the process of making couture looks like.
Take a look at this inspiring video to get an idea of how the process of making couture looks like.
Who Buys It
As such, this level of quality means high prices and high-end customers. It is reported that about 2,000 women worldwide purchase haute couture and of those 2,000, only 200 are regular buyers, mostly from the Middle East, China, or Russia. The cheapest of couture pieces will cost you $10,000 and evening gowns can go up to a 6-figure number.
To everyone else these collection matters as they often set the stage for future fashion trends within the Prêt-à-Porter(Ready-to-wear) collections.
Featured image: Ralph e Russo SS17 / Photo: Imaxtree
Like what you're reading? Follow us on Pinterest!
Download NOW - The Ultimate Makeup Artist Career Guide
We only recommend products that we genuinely loved. However, when you buy something through our retail links, we may earn an affiliate commission.