Hundreds of young people everywhere dream of being a
famous Makeup Artist.
However, how do you even get started in this competitive industry when you are right out of school ….or planning to switch careers with no savings to go to an expensive Cosmetology school ? I mean, yes it is important to learn about the craft, however, let's not forget, this is one of those professions where your passion for the craft and hands-on work experience is what will set you apart.
If you share this dream of starting out as a Makeup Artist with no idea where to turn first, then you are in the right place. We have researched much and after gathering the wisdom of many who have gone before us, we found one thing that is common to all successful makeup artists – Collaborations!
So where to begin? …
THE DREAM
Clearly, the reason we want to be 'Them' – the seemingly unattainable 'Famous Makeup Artists'…. is because they enjoy a well-earned and respected place in the fashion and beauty industry. Not only are they on a first-name basis with celebrities and rub shoulders with the who's who of the world but they get to travel the world while doing what they love!
I mean, isn't that the dream? But that's not even all! With the advancement of technology and visual platforms like Instagram, their artistry skills are on constant display worldwide gathering recognition while they go about their daily living. It's like having a live spontaneously updating CV/Resume (think: job offers from exotic locales without applying!) Sigh, Makeup Artist or not, who doesn't have that dream. But in all seriousness, even until 10 years ago, it was a profession not that visible. But now we see it, we desire it, we want it and we want it NOW!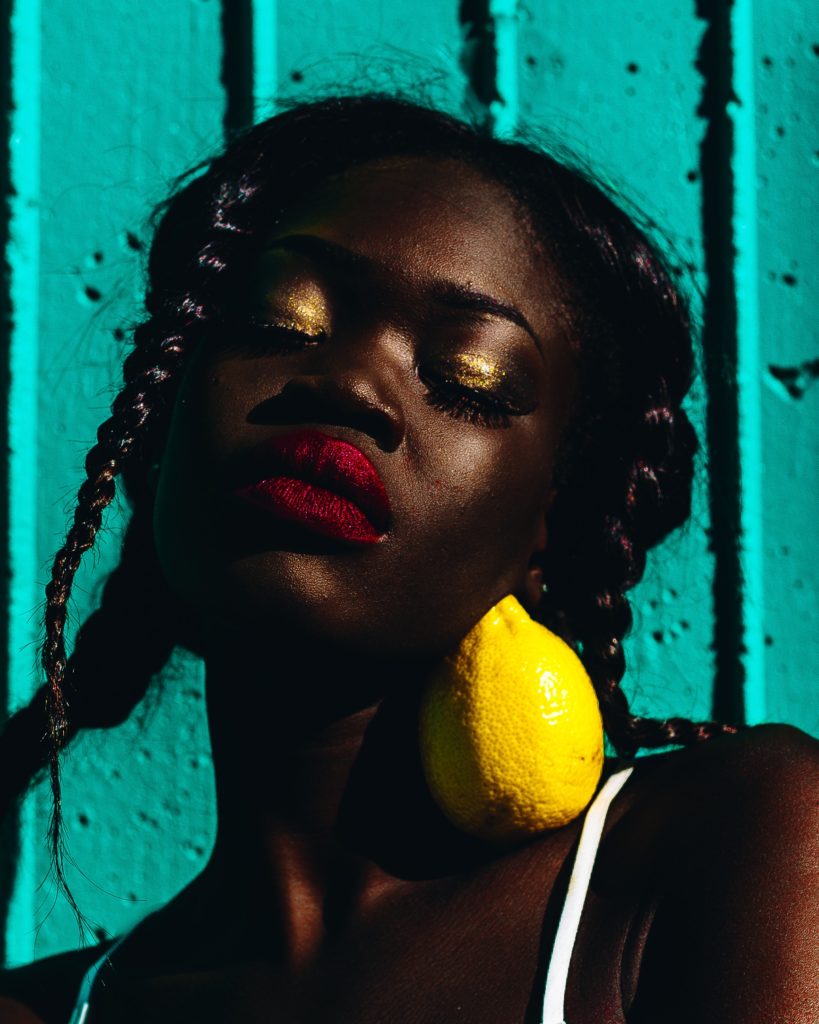 THE ART OF MAKEUP
Makeup is an art in a pure sense. There is a reason it is half-jokingly called 'Painting your face'. When you're doing someone's makeup, it is literally- painting their face, creating art, transforming that person's appearance.
The client becomes our canvas and our billboard all at the same time. It is no wonder that makeup artists gain so much popularity. They have clients who are on camera or in the limelight. Their 'Art' goes live through their clients and with every picture saved on the client's Instagram or album their art gets immortalized as a never-fading testament to the talent of the Artist.
Yup, time to wake up. Let me talk about how to get there, or at least the first step to the dream.
We have one word:
Collaborations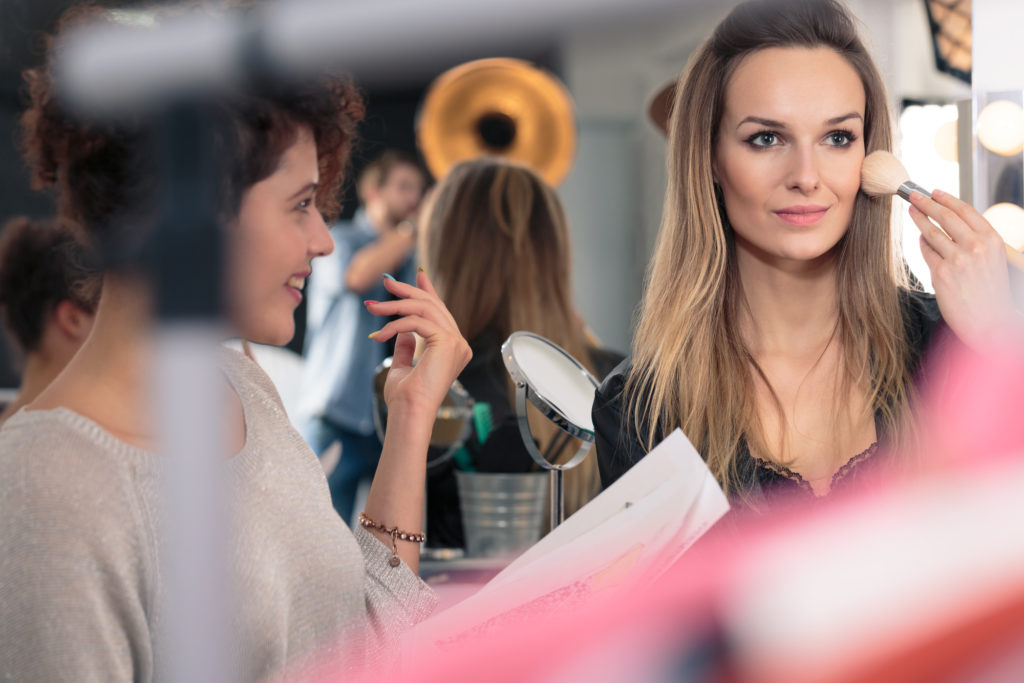 One thing we are certainly aware of, much like any other profession, all makeup artists started from scratch, from Zero. Even the ones who went to expensive Cosmetology schools. When we talk about the skills of famous makeup artists and their way to the top, there are some things to consider. But one of the most important factors is a Portfolio. And everyone in this profession who wants to advance needs to create a STELLAR one.
Create a stellar portfolio
The Portfolio is the ID of an artist and their work. The importance of a carefully built portfolio lies not as much in quantity but in quality. For starters, that can be a well-curated Instagram feed (Make note that this is not a professional makeup portfolio). Therefore, styled shoots and killer images of your work are your entry ticket to success.
It may take some time to build a strong portfolio or online presence, but learn to appreciate every experience. Each experience will help you to progress in your career as a freelance MUA. Step by step leading you to THE DREAM …..A famous Makeup Artist.
Download NOW - The Ultimate Makeup Artist Career Guide
How to create successful collaborations
So how do you go about collaborating with other artists to get you those amazing images? The most important is to find the right team, break down your vision into steps, and learn to co-create with others.
Collaborations offer multiple benefits. You learn much from other artists' perspectives. When they see your work, they will likely recommend you to others, and get you, new clients. And you will double, triple your exposure online as most likely all the artists will share the work you created.
Start with the vision: Have a vision
Find a calm spot away from distractions, take a pen and paper, and answer these questions:
How would you like your work to be seen? eg, specialist as a wedding MUA or Editorial MUA, etc
What would you like to accentuate the most as your prominent skill– eg. eyes, lips, or face contouring?
What are you looking for in your team of collaborators? (very important if you want to save time in finding the right people quickly)
Your styled shoot will depend greatly on the photographer and stylist you are working with. In order to find the best team, you'll have to understand what you want. The vision you have is super important, but let others be a part of the process as well.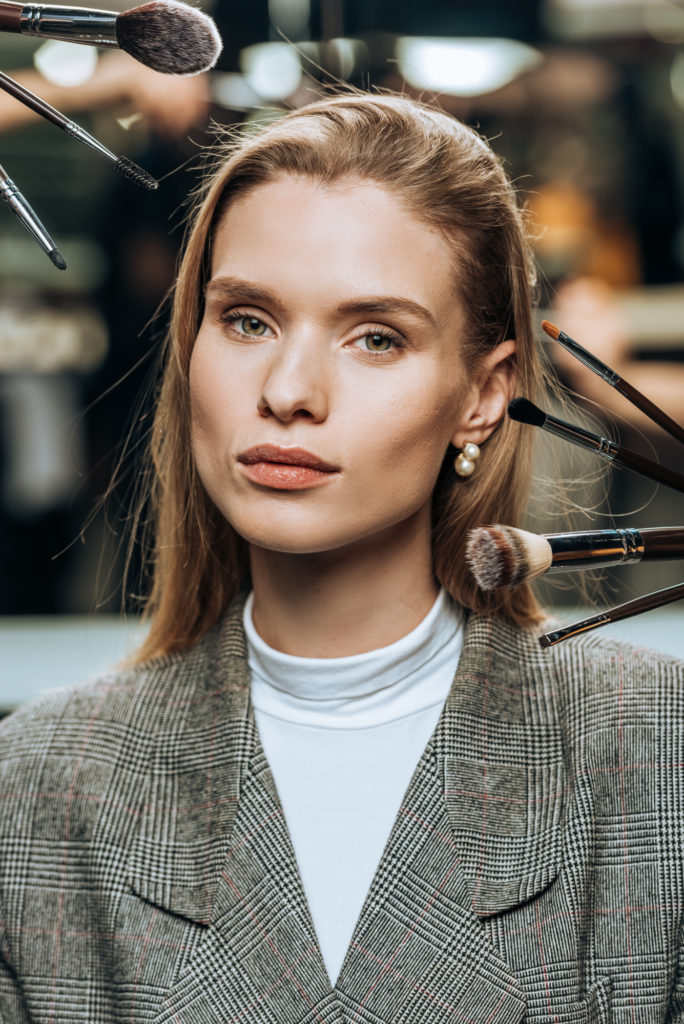 Create a Mood board for Collaborations- Now you know what you need
Now when you know what you want to create, you need a way to communicate that vision with other members of the team. All the parties involved are visual artists, the best way to communicate your ideas is by creating a mood board. Be sure to share it with others prior to the photoshoot so everyone can be on the same page about what is a desired final outcome.
Create a dedicated board on Pinterest and start pinning images that communicate what you have in mind. Save images that capture the mood, style, hair, makeup, model expression or pose, photography angles, colors, etc. It will save you time to find common ground and successfully merge it with the personal expressions of your collaborators.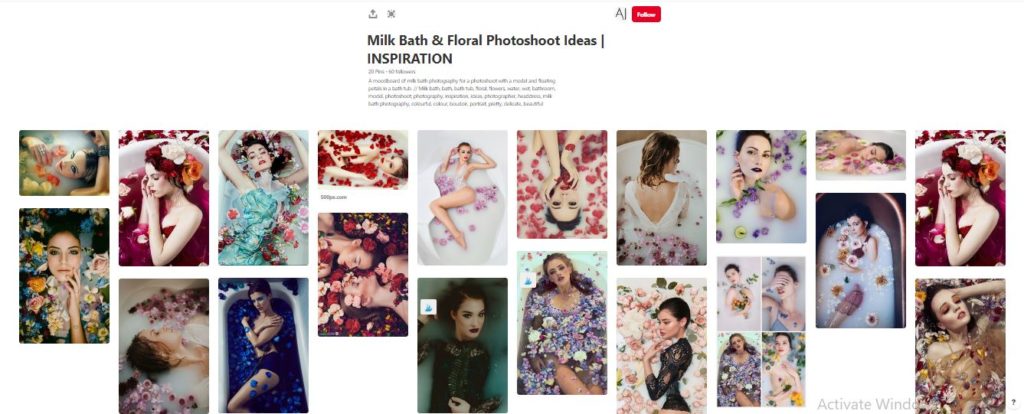 Who do you need on your team?
You will need to look for at least –
Three (3) Major Team Players
A Photographer,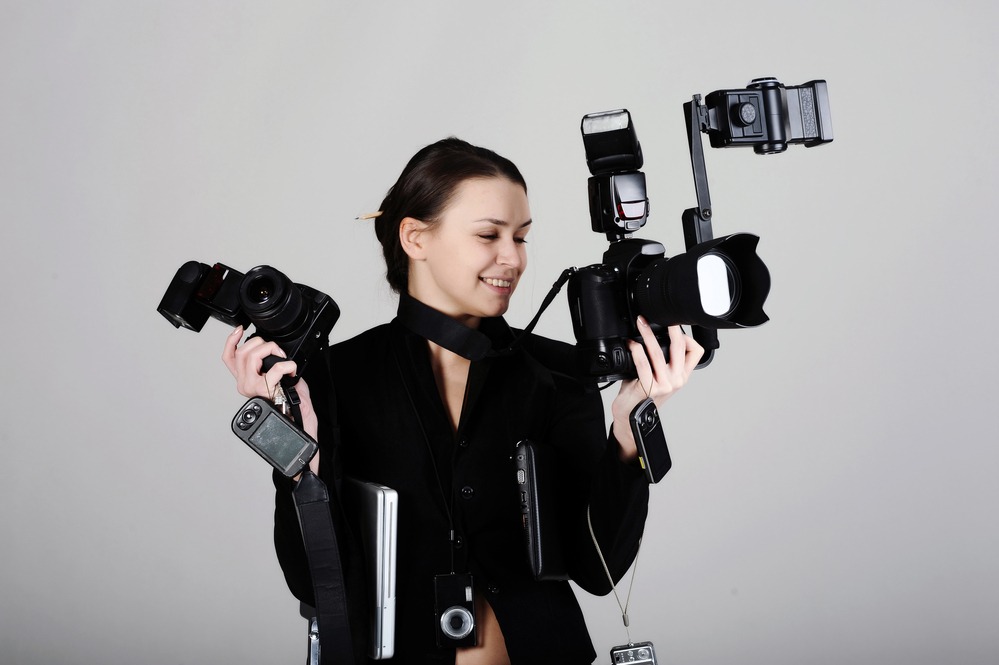 A Hairstylist (unless you do hair as well)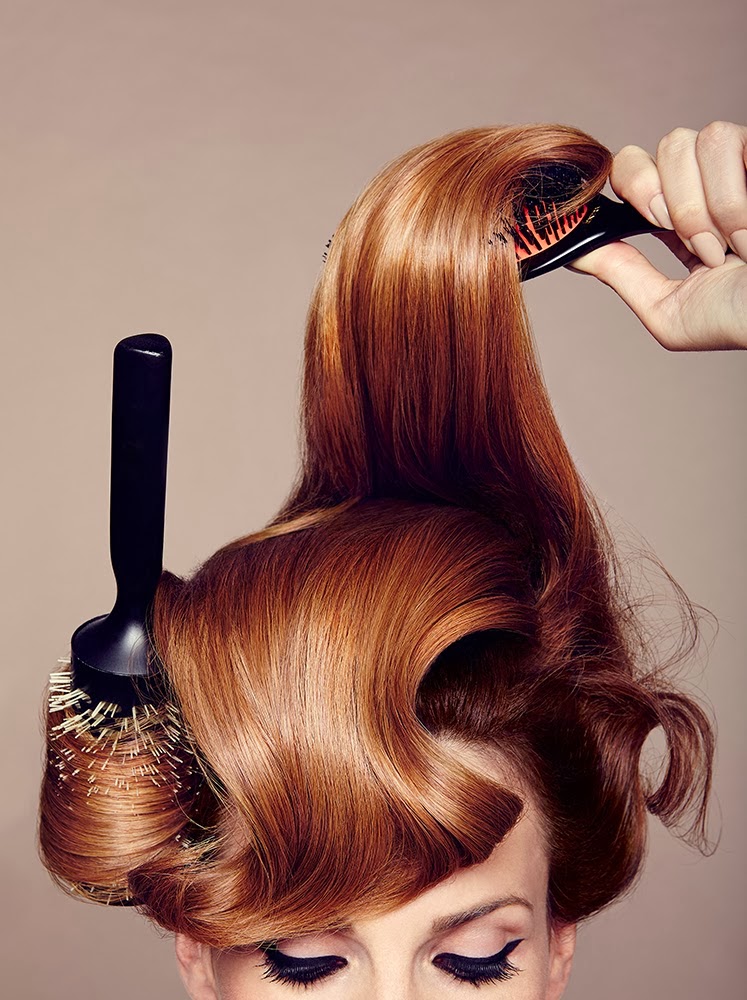 and;
A Model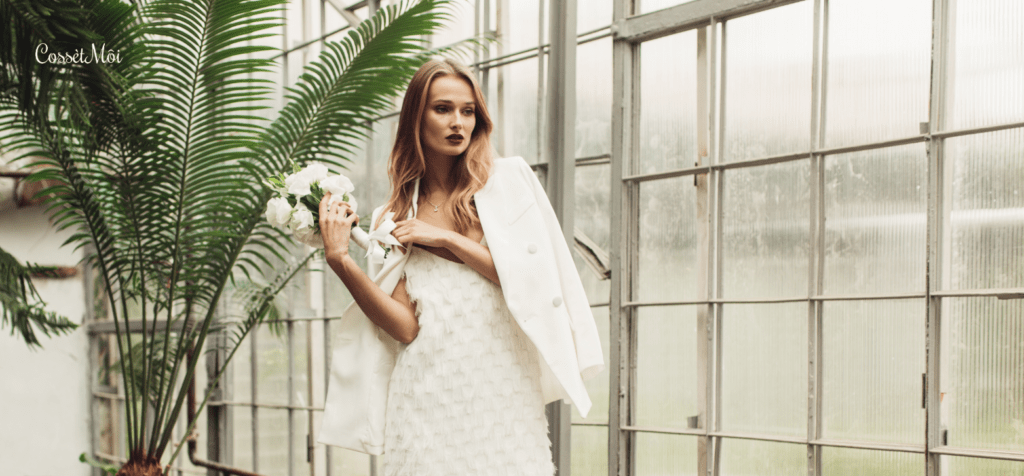 Depending on the vision you have and the scope of the shoot, you may need more artists involved. If you want a fashion shot, you will need a stylist as well. If you want a close-up shot of your model and you want them to pose so their hands are visible, you'll probably need a nail artist as well.
First, go through magazines, and look at the pictures. Try to think of every detail. But don't do all yourself, if you are not well-versed, look for people specialized in those things to help you. It will be a give and take, likely a long term relationship, so choose wisely 😉
You will want to find the people that share the same passion as you, no matter the profession. This is a creative process and everyone should be all in on the project. The last thing you want is a model who is getting bored on the shoot or a stylist that doesn't love your makeup style.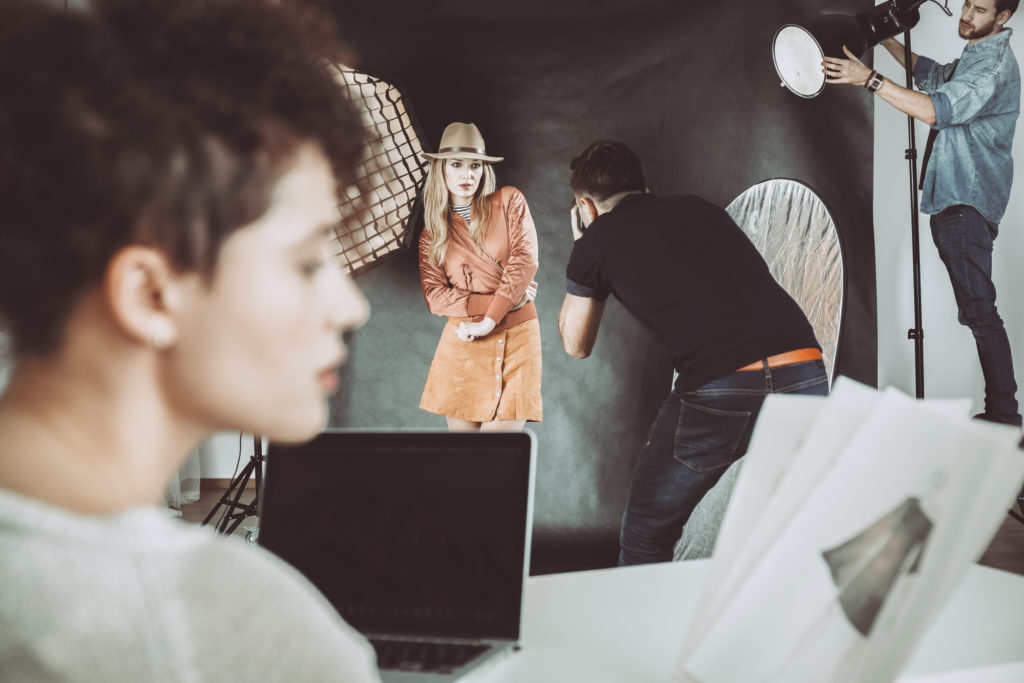 Terms & Specifics for Collaborations
Before the project starts, don't forget to establish terms of collaboration. This can help prevent potential headaches. Be specific:
Scheduling time and place, ie. when and where the project will take place.
How much time you need for your part of the work
Other basic working conditions
Plan for any financial investment etc
Time is money and each professional needs their time to get their work done. It is always good to leave some space for flexibility. Each member of your team needs to come prepared, these terms of collaboration will help them get the job done on time. This way everyone will be satisfied and the final result will be a successful project.
This is a step that all professionals need to undertake.
Collaborations: Legal things to consider
If you want your work to become visible to the greater public, you will need to become a licensed MUA. This will depend on your State, Country, etc. That is the research you will need to undertake.
Also, it is good to make a Makeup Artistry Contract to protect your interests as a makeup artist. This Contract should include your and your client's personal info, timing, and potential cancelation clauses.
This is important not only because of the legality of your work but also because of the protection of your personal assets and skills. Like other artists need their work to be protected by a copyright policy. Your work and your creative project partners need to be recognized as unique.
TEAMWork makes the DREAM work
Choose the team carefully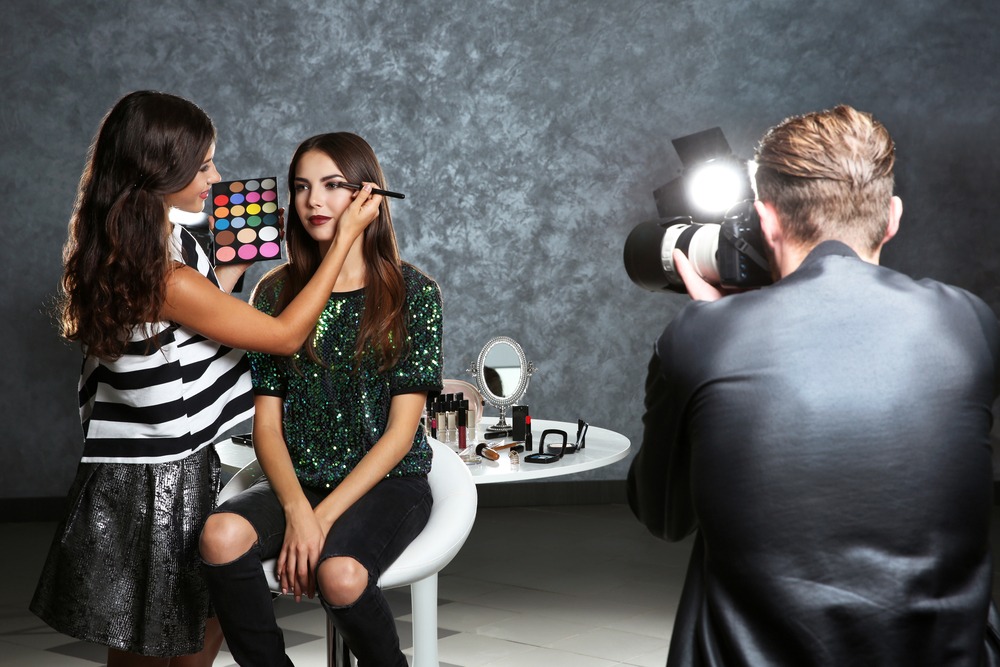 Sharing a vision, commitment, passion, trust, and love for art has always been the key to any successful collaboration. You as a makeup artist will be facing many challenges, and therefore you will need someone whose energy and body of work is similar to yours. It is important to consider what you have to offer and have realistic expectations from others too. You can't expect professional posing from your friend or high-end photography from someone who is just starting out.
Even if you are just starting, try to find someone who has just a little more experience than you or that are creating work that inspires you. Most likely you won't catch the attention of the best in their field at the beginning, and that is perfectly fine.
Whether it is a photographer, a stylist, or a model, when you have found the most compatible collaborator, make an offer and see if they share your vision. And if it happens that you can work with someone who has a lot more experience – remember reputation and names are not everything.
Every artist is different, and not every recognized name will be a good option to collaborate with. A good name isn't a guarantee you will function as a team.
Collaborations are teamwork and demand to find a mutual interest, sharing the same energy and values.
How to find your dream teammates to collaborate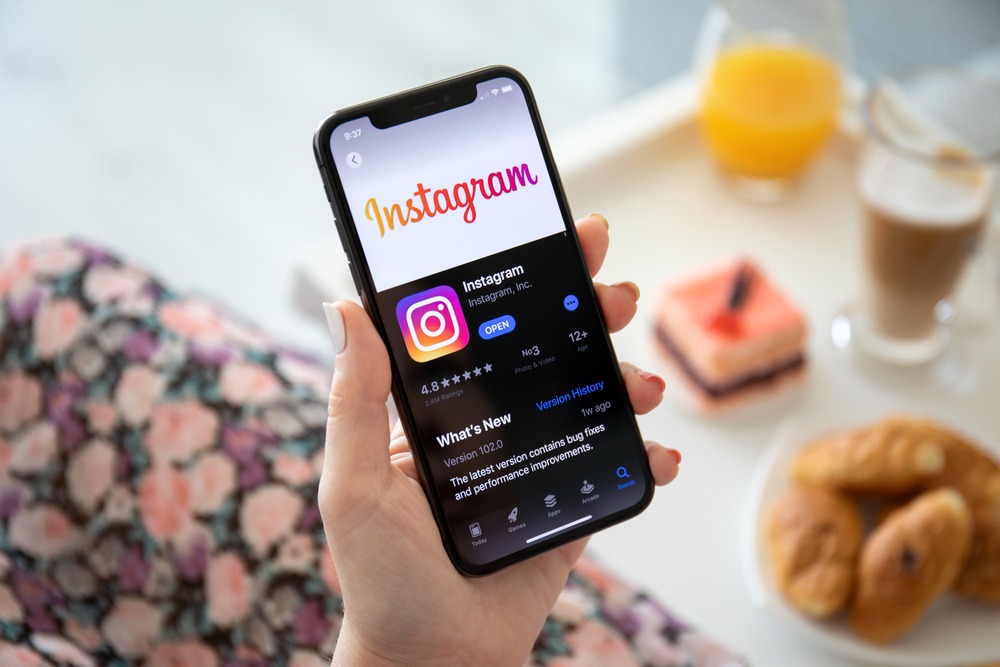 Instagram and Facebook, as most working artists have an active presence on social media. But it will be worth it when you find the right team. Analyze their work and find someone who's style is similar to yours. If you are a wedding makeup artist, find wedding photographers. If you want a beauty portrait, choosing a wedding photographer may not be the best choice, although they probably have experience with it.
Send DMs to various people and remember that the worst someone can say is no. Your message can be concise at first, an elevator pitch of who you are, and any ideas you have, along with any other details about the team that you can provide.
Example of DM for collaborations
"Hi (Artist's Name)! I hope this message finds you well. I'm reaching out to you because I really appreciate your work and was wondering if you would be interested in collaborating on a photoshoot with me and (other artist's Name) sometime. I am hoping to do a shoot in (Makeup style; ex. fashion) and can send more specific reference images based on your interest. My work can be seen here on Instagram or on my website, (Your Website). Thank you for your consideration—I look forward to hearing from you!"
Of course, you can personalize this message and say what you liked about their work, and why you will be a good team.

Cosset Moi Collaborations
Here, we are biased, while there are a number of places to find other artists, there is a new kid on the block that's becoming the preferred way to connect with Artists. Ta-da – Cosset Moi!
It's free, super simple and you can create collaborations within 3 mins of signing up.
Artists that tick your requirements within your chosen location will get a notification and apply! And then you just click and choose your teammates.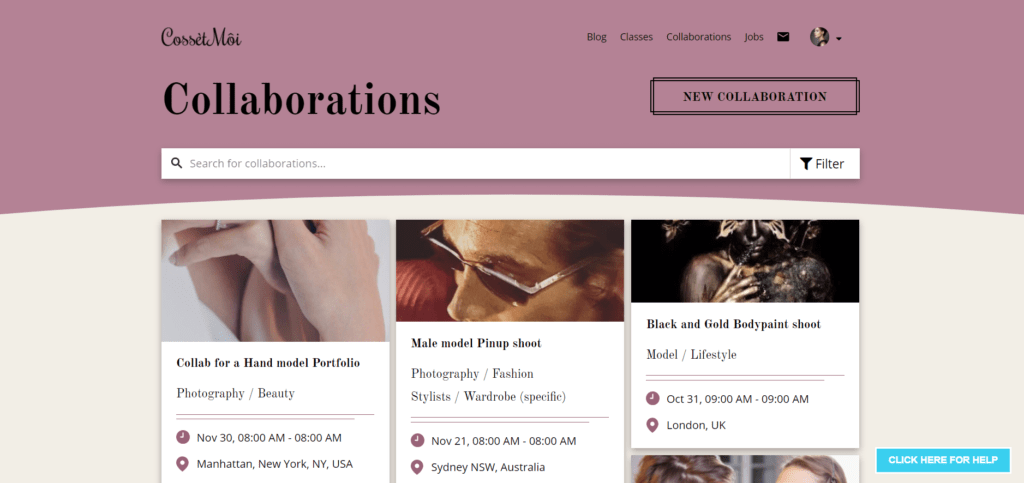 3 Easy steps to create a Collaboration on Cosset Moi
1. Create an Account via Google or Facebook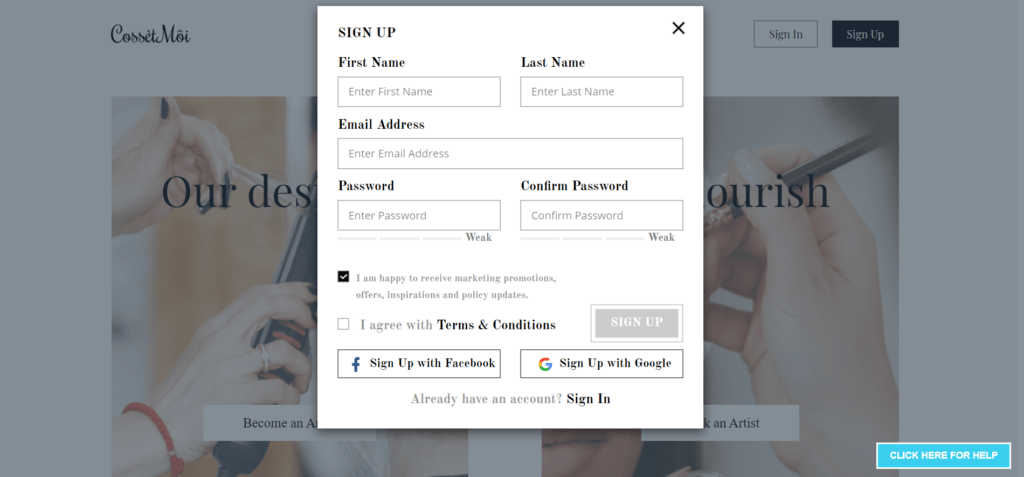 2. Fill in your Artist details on our platform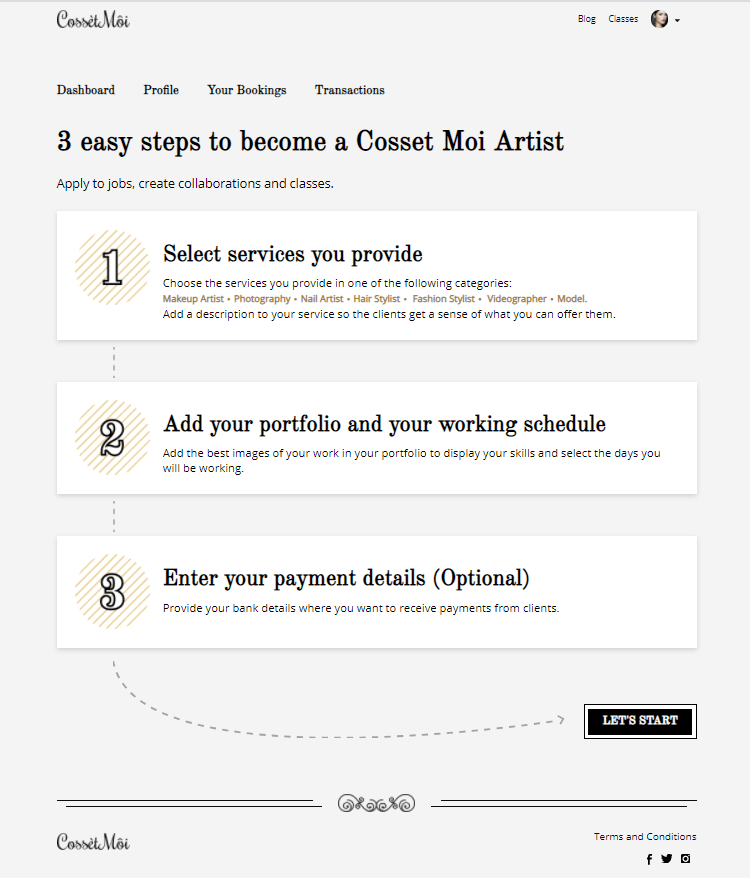 3. Create a Collaboration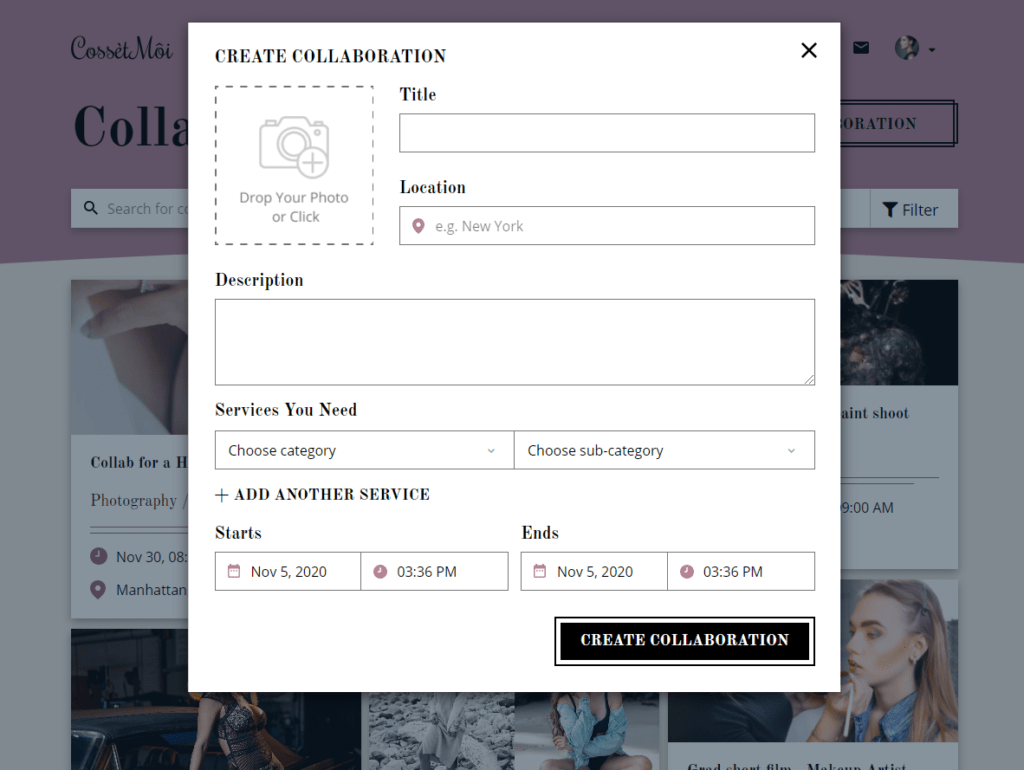 Why Cosset Moi Collaborations?
You don't have to waste any more time searching for other Artists. Cosset Moi will help you find a tribe of amazing friendships to sail through! It's a great opportunity to create new connections, you don't know where your next break it's gonna come from 😉
Start today!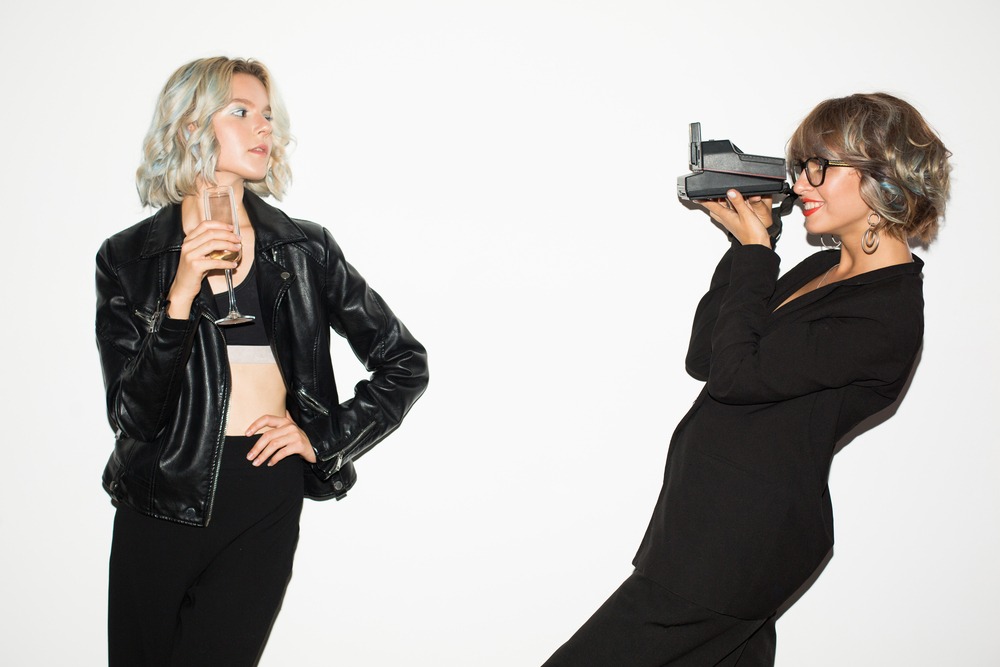 Now when you are familiar with how collaborations work, you can get started on your journey of becoming a famous makeup artist! This is your roadmap to getting your work out there to be seen by thousands. Don't wait to start collaborating with others. The sooner you start, the sooner you will arrive at the desired destination.
Like any dream, this one may not come easy, there will be hardships and detours on the way. But if you stay focused, who knows one day you might be the one living THE DREAM and inspiring the millions of dreamers.
Related: How Collaborations are Shaping the Beauty and Fashion Industry
Follow Cosset Moi on Instagram where we regularly share amazing images that were created through collaborations!