Becoming a bridal makeup artist is a beautiful career path. You will be part of the most important day in the lives of many women. The importance of making them look their best on that day carries a lot of responsibility.
That kind of job carries a certain dynamic and it is not just about knowing how to make someone beautiful. If you want to go in the business of bridal makeup, and in order to deliver your best and leave no room for surprises (inevitably, they are going to be some), it is best to not rush into it. Educate yourself first and be well-prepared.
What can you expect working as a Bridal Makeup Artist?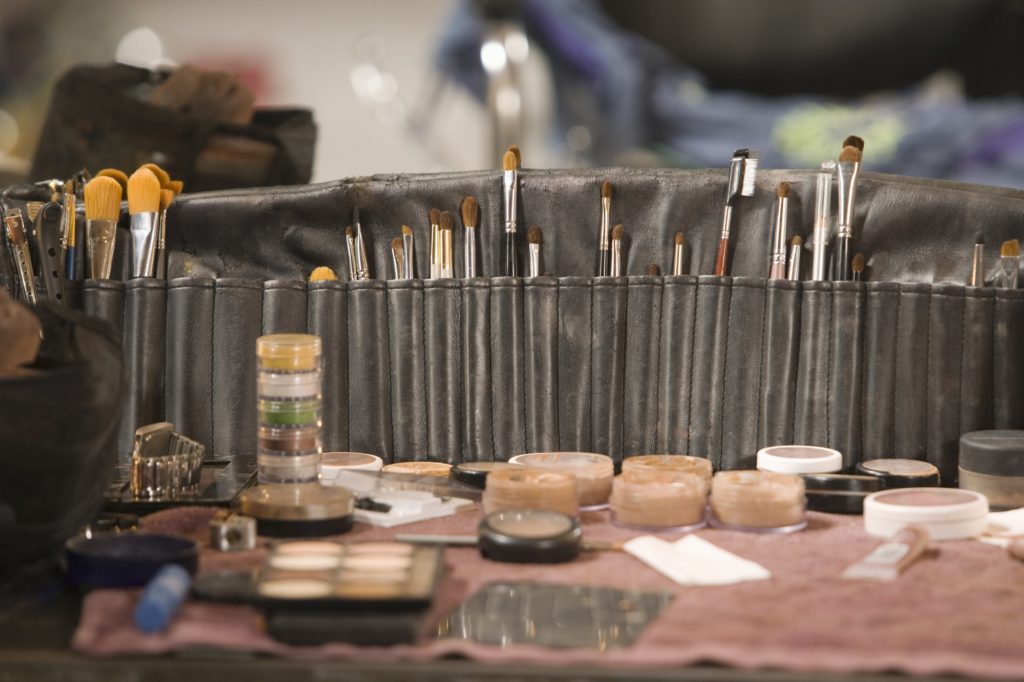 Fierce competition
Earning more money with this type of services make this field really competitive.
There are many bridal makeup artists who do makeup and hair; from artists that are doing this full-time, to the artists that are doing bridal makeup occasionally as an additional source of income.
Keep that in mind if you want to do weddings because you really have to be on point with your services and there is a lot of stuff you need to go through before starting out. You would need to focus a lot of your time on the business side of the job. It would be beneficial to market yourself and your services in a way that helps you stand out.
A lot of traveling
Traveling is a big part of the job. From the clients living in suburbs to destination weddings, you are going to travel a lot. Not all of your clients are going to live on the public transit routes, they are going to live all over the place.
If you don't have one, you might want to get a car. If you want to take this more seriously, in order to be more accessible and take more jobs, the car is your best investment. Making sure you can get to places easily and on time and in a costly manner is going to be very important when you are running your own business.
*If you are going to fly to a destination, learning to pack your kit to be easy to travel around with, is a lifesaver. Also, consider getting insurance for your kit.
Working on weekends and holidays
There are more busy months in the year but expect to work all year round. You will be working mostly on weekends, and holidays. People get married on Saturday, Sunday, New Year's Eve, Christmas Eve, Thanksgiving, but also on Thursday, Friday and many other holidays.
If the location is distant, or there are big bridal parties involved, you need to get going quite early in order to accommodate it.
Your responsibility and accountability are going to be crucial when working as a bridal makeup artist.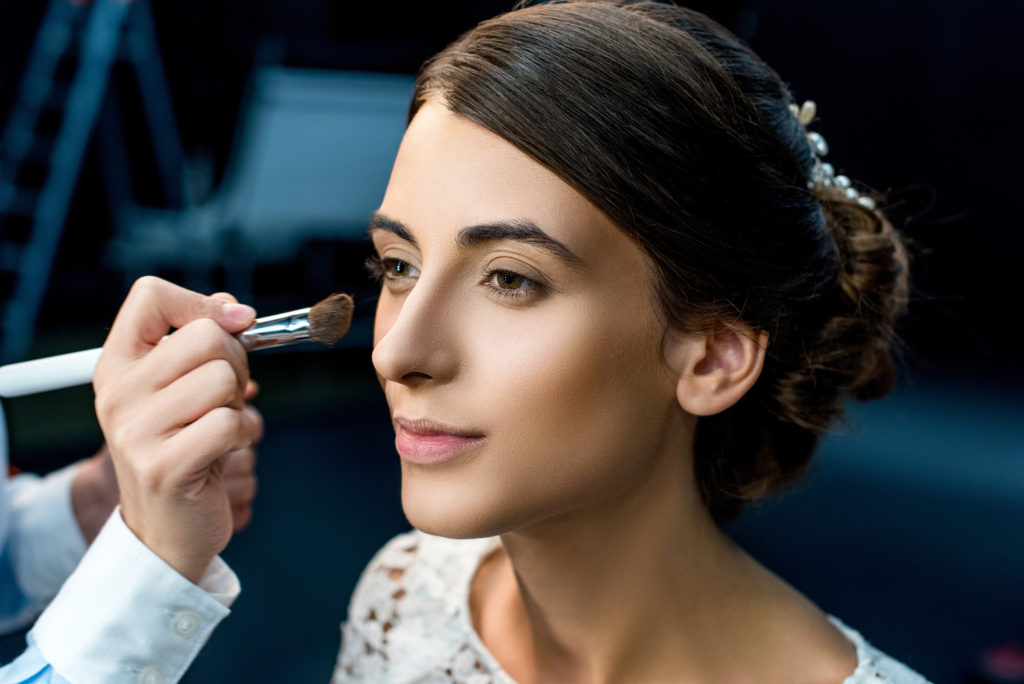 Working in teams
If you want to be a one-stop shop for your clients, learn to do both hair and makeup. If you can do both, you are going to make a lot more money.
To provide a full range of services, you want to make sure that you have a really great network of people who also do bridal hair and makeup. People you can trust and can call on when you have a big bridal party.
If you are not doing the hair, the clients will often ask you for a recommendation for a hair stylist. And your client will really appreciate it if you can recommend them a few hair stylists that you know are good. You are going to refer a lot of people, so make sure you know they are going to do a great work and not make you look bad.
If you are not 100% confident in your skills and efficiency or you don't want to deal with the business side of the job, you can seek out makeup artists who are already established in the industry. You can contact them and ask them if they need an assistant. You have to follow the direction that the artist has already established so that everything looks cohesive.
Even if it is a lower rate that you'll be working for (and you don't need that in terms of practice), you can still consider about assisting. You only need to show up and do the makeup, so it is really a lot less of working hours involved.
If you are the one who is turning away jobs or needs help with the big bridal parties, build your own bridal team.
Working under pressure
You need to be calm and patient — no matter what. Everyone is going to be excited and nervous. There will be situations when you are not going to have enough room for your makeup. Your assistant may not show up or you need to work quickly because someone else is late. Whatever the reason that is testing your nerves, you are the one who needs to show confidence. You will need to have patience and hide your improv game anytime. Being calm and professional will be remembered as well as your makeup.
Trials and working hours beyond the Big Day
There are more hours that go into working for a client than just what happens on the day of the wedding.
Many will pay you for a trial to make sure that they can get the exact makeup look they want. Here, communication is the key. Brides often do not know exactly what they want, and that is okay. It is your job to ask the right questions and to make suggestions.
During the trial, you are going to talk about your contract and what is expected of you on the day of the wedding. Moreover, you're going to be corresponding with your clients via email, chatting over coffee, or on the phone. Discussing the logistics of the day, the schedule, the price, and of course, the makeup.
If they don't want a trial, make sure to make more time on the wedding day for makeup. As clients are most likely going to change their minds.
This is all something you should consider when setting your rates.
How to get started as a Bridal Makeup Artist?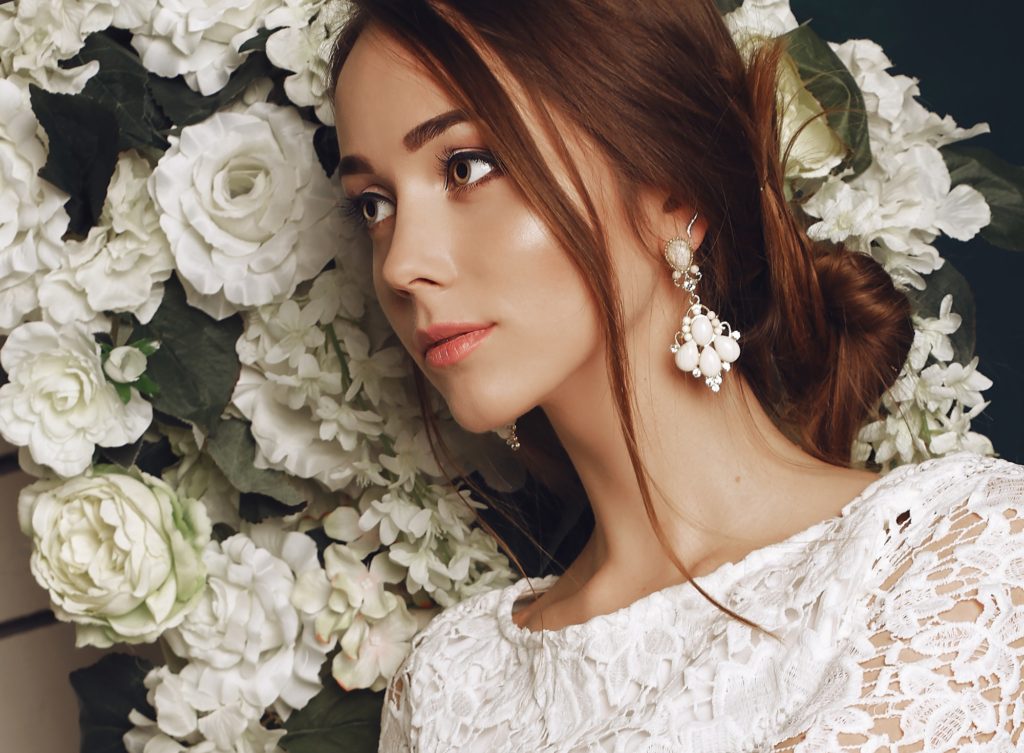 There are exceptions to every rule, and how you would run your business is up to you. Below are the few common best practices on how to get around in bridal makeup industry.
Online presence
The Internet is, obviously, the main source where people seek you out to do their wedding makeup. Clients will go to Facebook, Instagram, or Google search for wedding makeup artist. So make sure your work is accessible online and for sure someone will contact you to do their makeup.
But don't leave things to chance.
If you want to focus on marketing just for bridal makeup, make sure that your website indicates this. The visual aspect is the most important criteria online. If you haven't worked on brides before and you don't have bridal images, you will have to stage a shoot for your portfolio. Connect with wedding photographers, wedding dress designers, florists, event planners and organize a photo shoot. Don't put online every work you've done, only the best. Read on how to edit makeup portfolio. Choose nice and clean images, where your makeup can be seen really well. For bridal photos, choose the natural makeup look over dramatic. Especially, in the beginning, don't go too risky.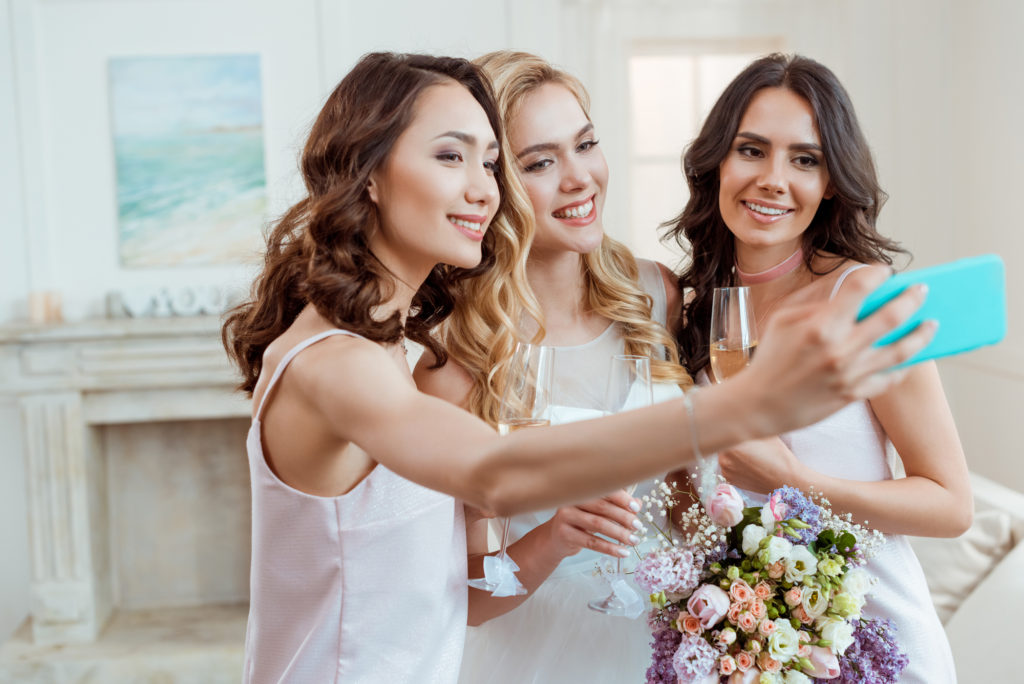 Word of mouth
Tell your friends and family what kind of makeup you want to do, to spread the word. Your inner circle will most likely get you your first clients.
Being a bridal makeup artist is extremely customer service focused.
So, be nice and professional, and always on time.
Word of mouth recommendations goes a long way for in terms of getting bookings. If you have done your job well, your clients will recommend you to their friends. It is a great idea to follow up with them after the wedding to see if everything went well. Congratulate them, send them one-year anniversary cards, be happy about them and be proud of your work.
If they are satisfied, ask them to leave you a review or testimonial on your social media. Or use their testimonial for your website.
Network
Connect with wedding photographers and wedding planners. Leave them a business card with your website info. If they like your work, they will recommend you to their clients. They can generate a lot of business for you, so it's smart to nurture those relationships.
Also, chances are, there is probably at least one wedding trade show in your area that you can participate in. Take your marketing materials and be ready to mingle and connect with people in the industry.
Are you a bridal makeup artist? Do you want to become one? Let us know in the comments, and share your work! <3