Face masks are very important part of skincare, and for the time when you are too lazy or don't want to wander farther than your kitchen, to get your skin glowing before the night out or just to spend some time taking care of yourself, whip up some recipes for homemade face masks from below. 
These nutrients are not only healthy option for breakfast, they are also super good for your skin. Definitely, try to get organic with all the ingredients, to avoid irritations.  You can apply these masks as often as you want as they are for all skin types including sensitive skin. To prepare your skin before any face mask, pour boiling hot water in a bowl and stand above it letting the steam open your pores.  And if you have time, massage your skin with ice cubes after any of this treatments.
Banana Mask
Banana is packed with some vital vitamins and nutrients that make banana face masks extraordinary beauty fix. Mash up a medium-sized ripe banana into a smooth paste, then gently apply it to your face and neck. Let it set for 10 to 20 minutes, then rinse it off with lukewarm water and then moisturize.
Plain Ol' Yogurt
Yogurt is a great ingredient for getting rid acne naturally, as it contains anti-bacterial and anti-microbial properties, so it is great for acne-prone skin. Use plain, unsweetened probiotic yogurt as sweetened and flavored types will cause skin irritations. Mix it with 1 teaspoon of honey until you get a creamy paste. You can optionally add a squeeze of lemon to help brighten the skin or blend in a few blueberries for additional antioxidants. Apply a thick coat to your face with clean brush or fingers.  Let it set for 10 to 20 minutes, rinse it off with lukewarm water. And feel free to eat the leftovers. 🙂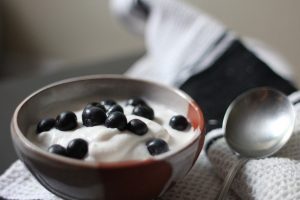 Lemon 
Lemon juice is packed with so many nutrients and its citric acid gradually fades spots and evens your skin tone, but one must be careful with the appliance, so make sure you don't exfoliate your skin before adding this mask because the lemon juice can make it sting. Mix 1/2 of a real lemon or a few drops of lemon oil (it has the same effect) with 2 teaspoons of honey. Apply all over your face, avoiding the eye area. Rinse it off with cold water and pat to dry with soft towel.
Egg
The nutrients in egg yolks work to hydrate, nourish, and moisturize dull skin. If you have dry skin that needs moisturizing, separate the egg and beat the yolk and mix it with a banana and a bit olive oil.
Egg white is great for tightening and toning skin. So if you have oily skin, beat the whites with a 1 tsp of honey and 1 tsp of lemon juice.
For normal skin, use the entire egg.
Apply your mask, relax and wait for 20 minutes, then rinse with lukewarm then cold water at the end.
You'll love your new fresh face after any of these treatments! Let us know what is your easy skincare recipe!
See more of natural skincare remedies!