Fall/Winter 2017 makeup trends are a real treat. Many looks were far away from the no-makeup makeup, instead, they were overflowing with creativity and self-expression. Vibrant colors, graphic eyes, artfully smudged lips, Twiggy-esque lashes… Makeup is getting seriously fun!
With the most avant-garde makeup looks put aside, these are some interesting yet wearable makeup trends we can pull of on the street. For hair trends, click here.
Floating Liner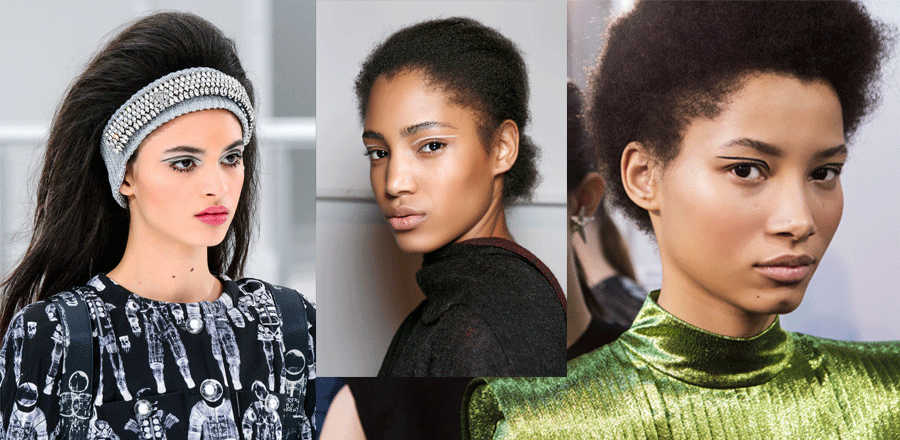 From left to right: Chanel, Tome, Thierry Mugler
One word – simplicity. If you want to experiment with expressive makeup this could be the perfect move to start with.
All it takes is a precise, straight application of eyeliner at the crease of the eyes for a simple accent. The rest of the face should stay as natural as possible to avoid doll-like look. Although that was the intention for the Chanel show. floating liner really helped the futuristic theme take off at Chanel F/W 2017 show. Then again, at Tome and Thierry Mugler liner highlighted model's natural beauty.
Shimmery Smokey Eyes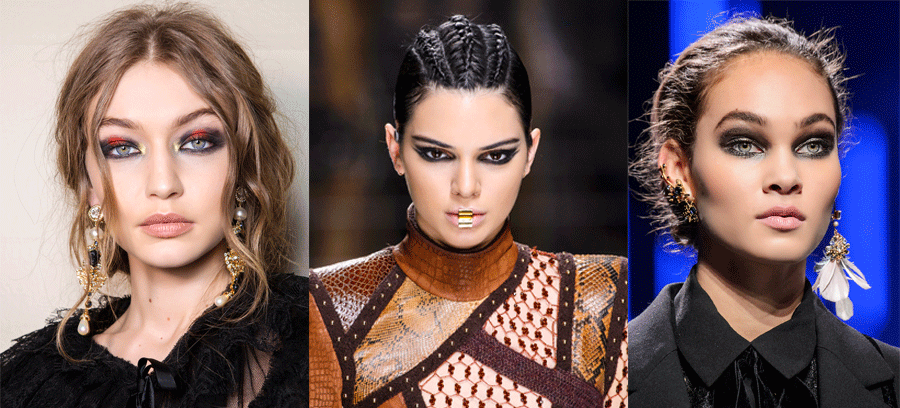 From left to right: Alberta Ferretti, Balmain, Elie Saab
This season smokey eyes are messy and shimmery. They are not blended to perfection, so they carry more '90s vibe than usual. And shimmer helps that imperfect style evolve to something elegant and romantic.

Imperfection is boring. We want to be unique and rebellious! – Tom Pecheux
At Alberta Ferretti, smoky eyes got a revamp with bright red pressed into the center of the eyelid and the gold in the inner corner.
The African inspired collections of Balmain brought a makeup palette of rich, warm colors, metallics, and ornate prints. Modern black smokey eyes with copper and platinum accents and negative space wings at the outer corner. Paired with lip jewelry and tight braids this was one badass beauty look that we will surely take inspiration from.
For Elie Saab lead makeup artist Tom Pecheaux got inspiration from the ballet Giselle(Tom Pecheux also did makeup for Balmain)

and

created intense, dark eyes topped with multicolor glitter and created a mix of fairytale, ballet, and Broadway show.
Blurred Lines
From left to right: Giambattista Valli, Andrew GN, Temperley London
If you don't have time or nerve for perfecting lip line, you will love this one. Forget the lip pencil, as perfectly lined lips apparently are not a thing anymore. Lipstick was deliberately stained, smudged and diffused in its application on many shows this season.
There's something modern and sexy about a blended take on the look.
See this tutorial on how to achieve this look.
Related: 18 Makeup Artists to Follow on Instagram
Twiggy 2.0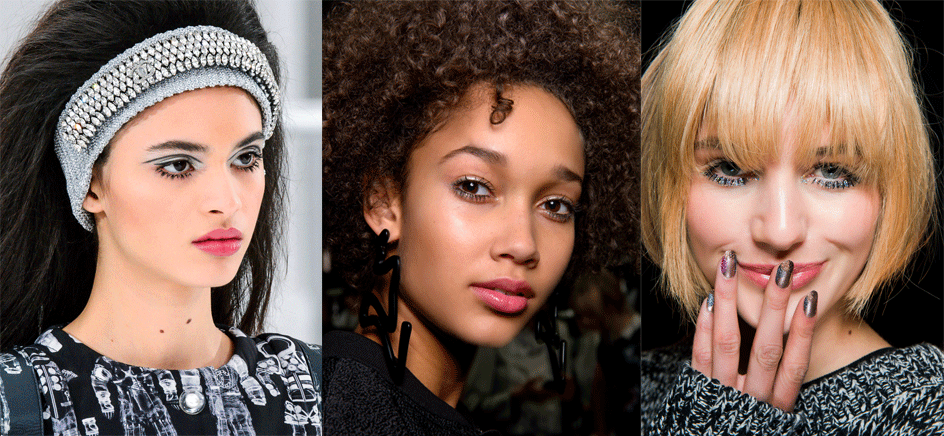 From left to right: Chanel, Emporio Armani, Tadashi Shoji
Bottom falsies are officially part of haute couture now. Spidery and segmented, with loads of mascara and individual false lashes, or even faked with eyeliner and glitter, the options are endless.
Color-Blocked Lids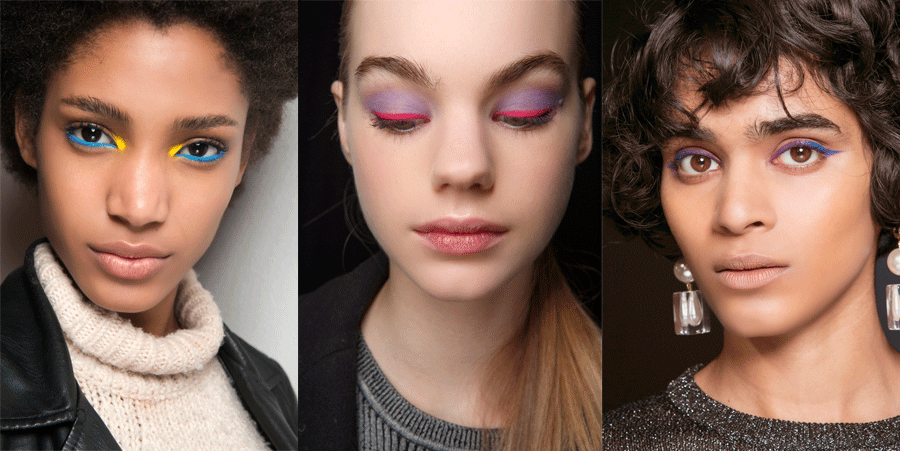 From left to right: Byblos, Oscar de la Renta, Marco di Vincenzo
"Now, more than ever, makeup is about enjoying color and making statements," – Pat McGrath
For fall there isn't one eyeshadow that is trending – it's all of them. Fun, wild, visually striking and overflowing with youthful energy. While some looks were whimsical and fantastical, we bring you the most wearable looks and encourage you to loose your makeup routine and play.
Our top picks are yellow and cobalt from Byblos, fuchsia liner, and pastel shadow pairing which was worn by the Oscare de la Renta models, and two-toned liner as seen at Marco di Vincenzo.
Download NOW - The Ultimate Makeup Artist Career Guide
image source: Imaxtree