Imagine this: you're on your knees, about to propose the love of your life. Everything seems to be going perfect until you take out the engagement ring, only to find out she doesn't like it. Pretty much ruins the moment, doesn't it?
Getting engaged has to be one of the most special moments in one's life. It depicts the unification of two souls and portrays the commencement of a new journey, filled with eternal love and commitment. And it's the engagement ring that epitomizes the existence of this undying love and unceasing togetherness.
Therefore, it's a good thing to do your research before you actually go out and buy one, keeping in mind your girl's preference. Hence, to make your life easier, we have narrowed down your options and have brought you the best engagement rings that'll make your special moment even more remarkable.
Simple yet elegant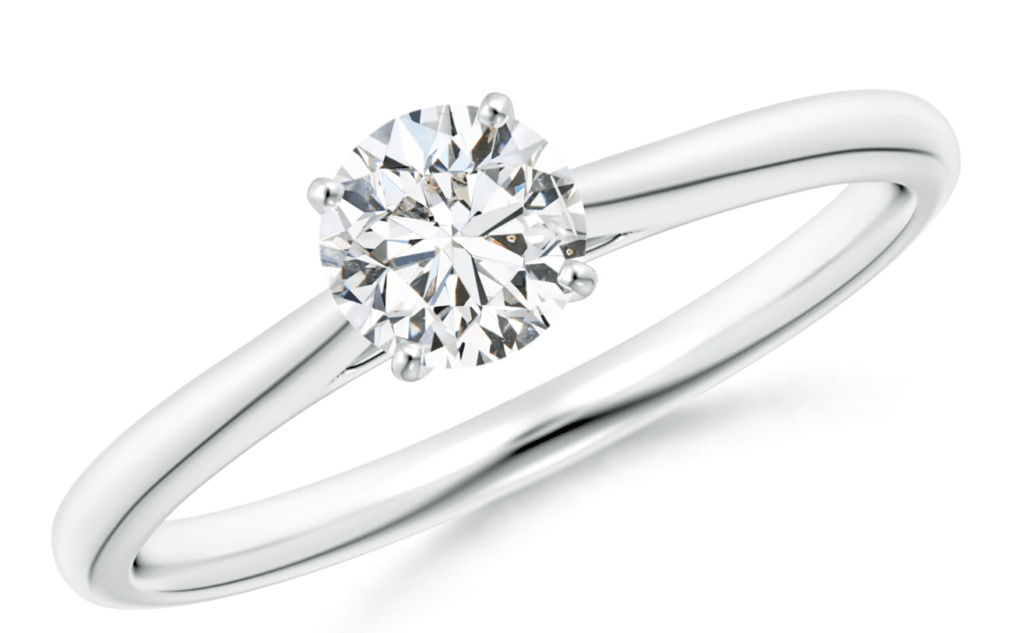 Nothing quite beats the charm of a diamond. Crafted in 14k white gold, this beautiful engagement ring embeds a brilliant-cut diamond solitaire. If you're looking for something simplistic yet refined, this is the ideal ring for you.
Features:
Solitaire Engagement Ring
Emphasizes the April Birthstone
Sophisticated Tapered Shank
Outstanding cathedral setting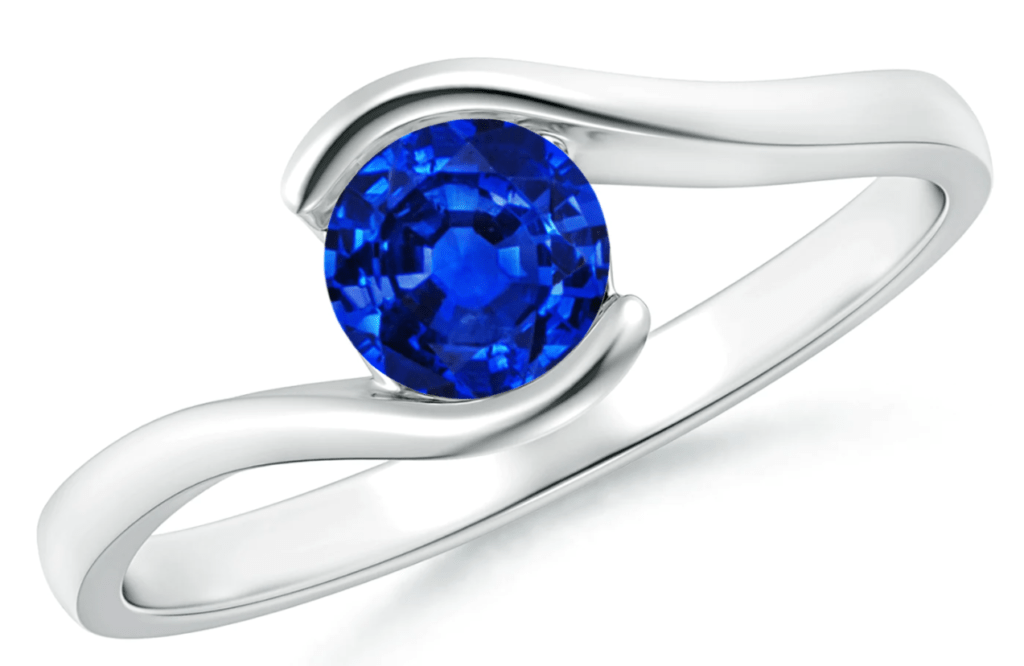 Radiating simple sophistication, this solitaire ring highlights a deep blue Sapphire. This shiny ring with a graceful bypass end can be a way straight to her heart!
Features:
Semi Bezel-Set Sapphire Ring
Highlights the September Birthstone
Graceful Bypass Shank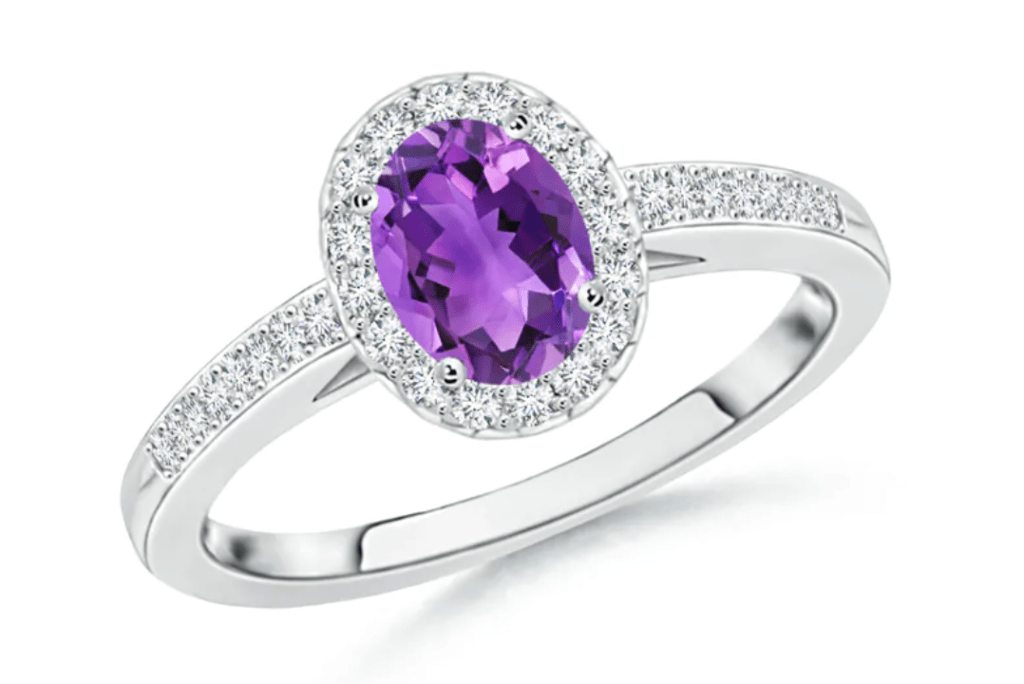 What's more magical than a classic oval ring? This beautiful oval Amethyst ring possesses a deep purple stone surrounded by a halo of round diamonds, a perfect ring for a perfect occasion!
Features:
Embellished With Prong-Set Oval Amethyst
Eye-Catching Diamond Studded Shank
Available from 0.36 carats to 2.14 carats
Aesthetic White Gold
If your partner prefers a somewhat bigger stone that'll be the primary focus of her hand, you can definitely go for this stylish ring. The solitaire ring is surrounded by a wrap of diamond accents that gives it added beauty.
Features:
White or Rose gold polished band
Round cut center Diamond of 0.3 CT.
Diamonds cut to perfection
Smaller diamonds line the outer edge of the band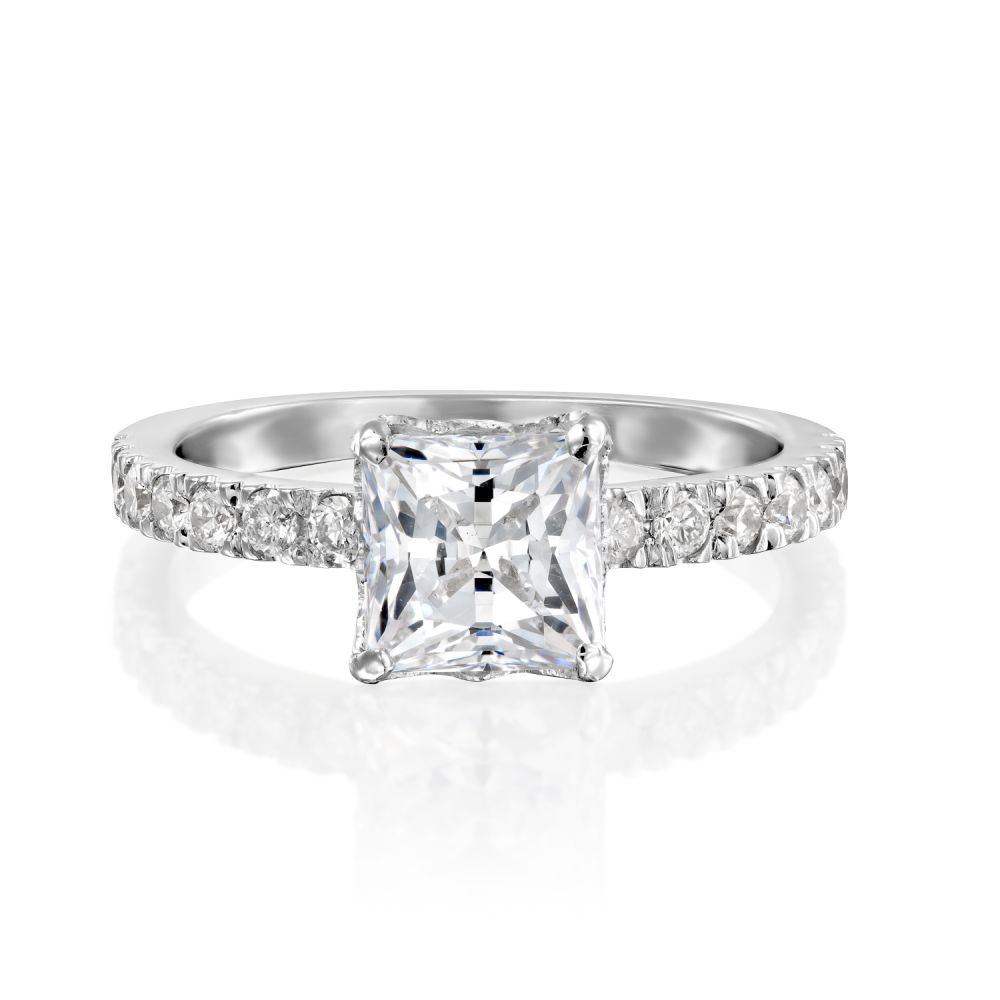 Perhaps if your partner is not much into rings with a round-cut, you can consider rings with a chic style Princess cut. Fulfill your princess' fairytale fantasy with the Princess Bride ring and make her dreams come true!
Features:
Clean princess-cut diamond center
Smaller round diamonds lining the band
Diamonds cut to perfection
White, Yellow or Rose gold band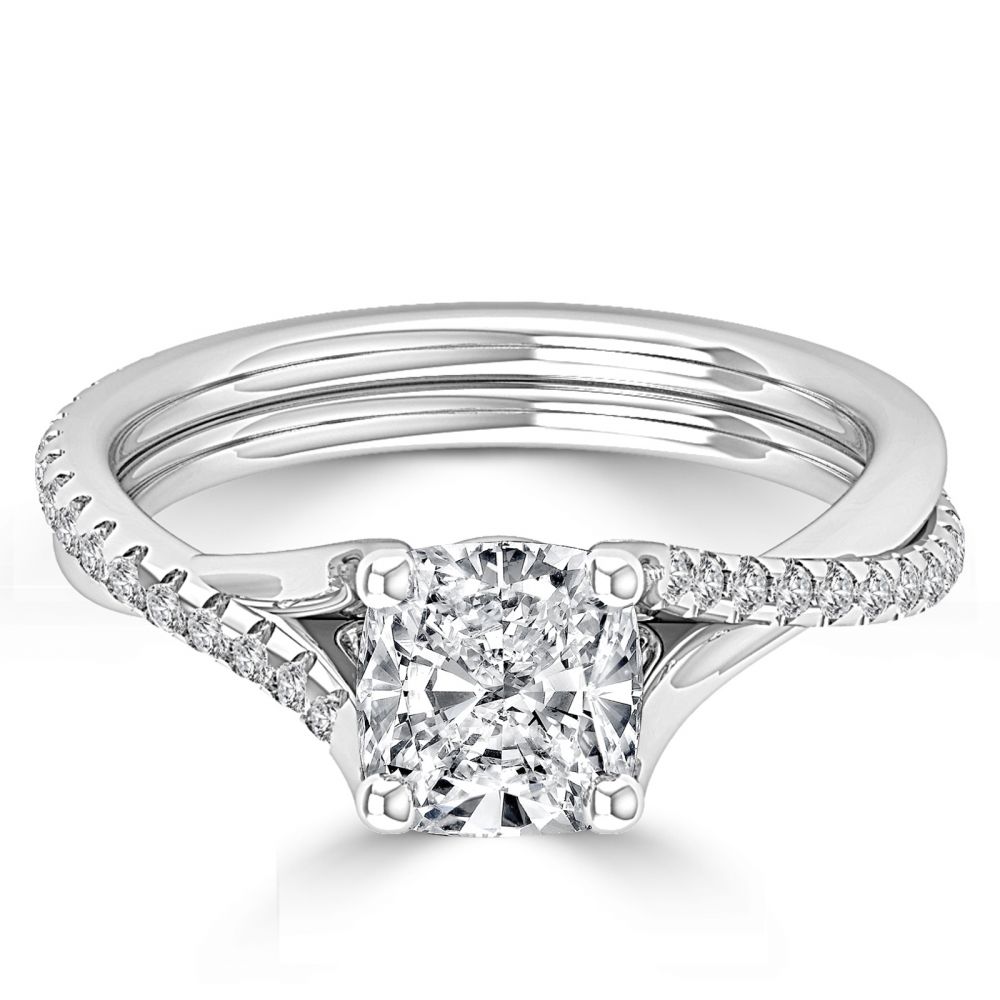 Surprise your love with this stunning ring and pave your way straight into her heart! The cushion duo ring with perfectly cut diamonds embraces a double band that makes it perfect for your special day!
Features:
Cushion cut center Diamond of 0.75 CT
Duo bands with diamonds
Diamonds cut to perfection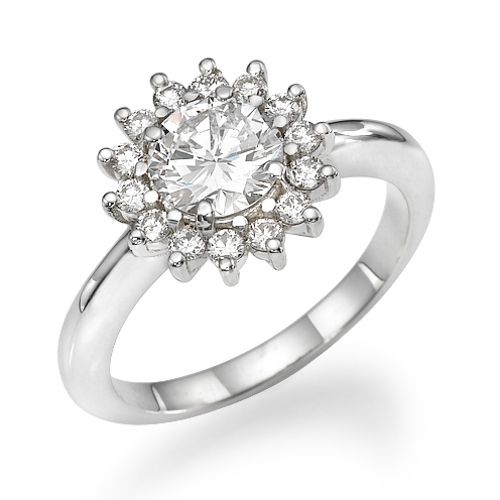 Encompassing an elegant floral style, the Kate in White Gold will fit beautifully in your fiance's hand. The center round diamond is surrounded by small other diamonds, giving it a stunning flower appearance.
Features:
Beautiful Round-cut diamond center
0.30ct Center stone
0.80ct total carat
How about a beautiful pearl ring?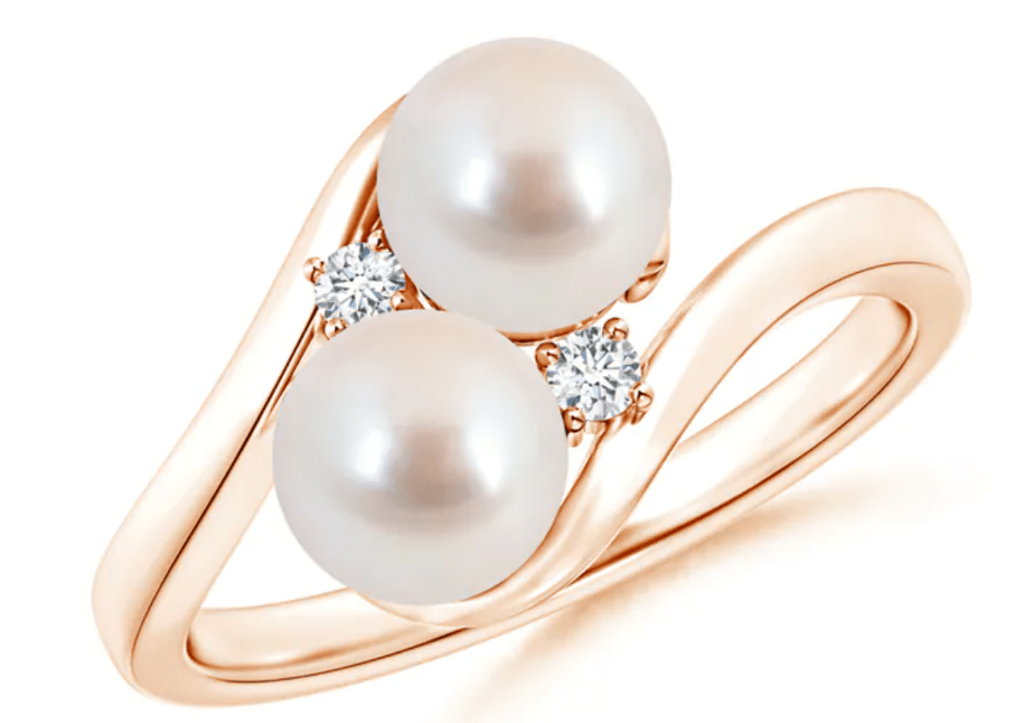 Pearl rings are amongst the most subtle options for an engagement ring. The Akoya Pearl Ring showcases two pearls exquisitely placed together, indicating the association of two souls- a perfect ring for your engagement!
Features:
Approximately 3.20 carats
Prong-set diamond accents
14K rose gold ring.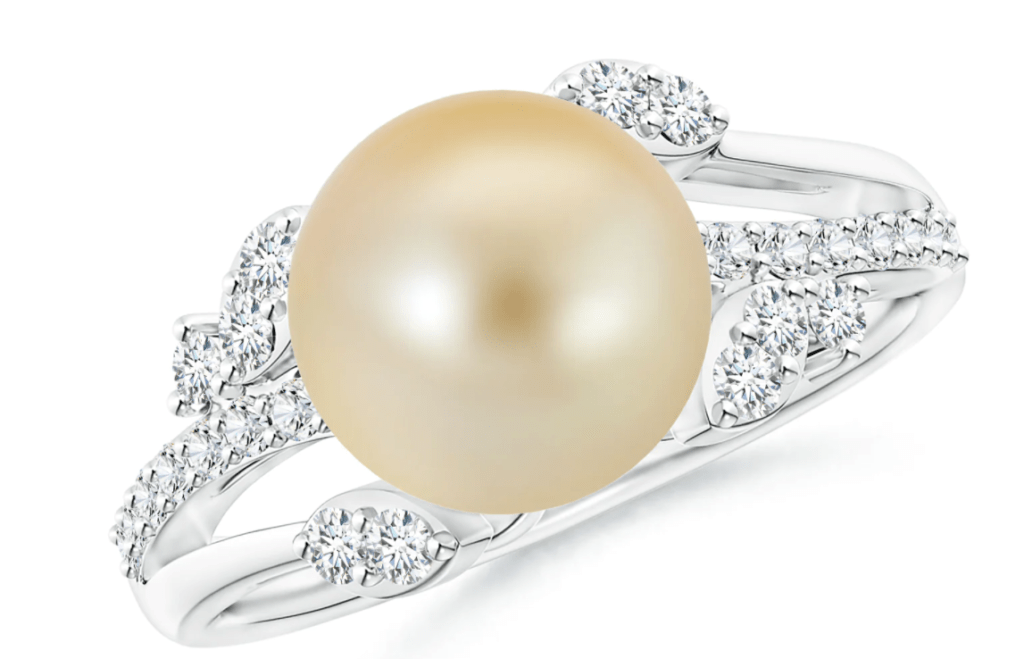 Featuring a stunning nature-inspired pearl in a split shank with leaf motifs, the Golden South Sea Pearl Ring is a surpassing choice for your naturing loving partner. In fact, you don't have to be up in the air for this one!
Features:
Golden South Sea cultured pearl ring
14k white gold
Prong-set round diamonds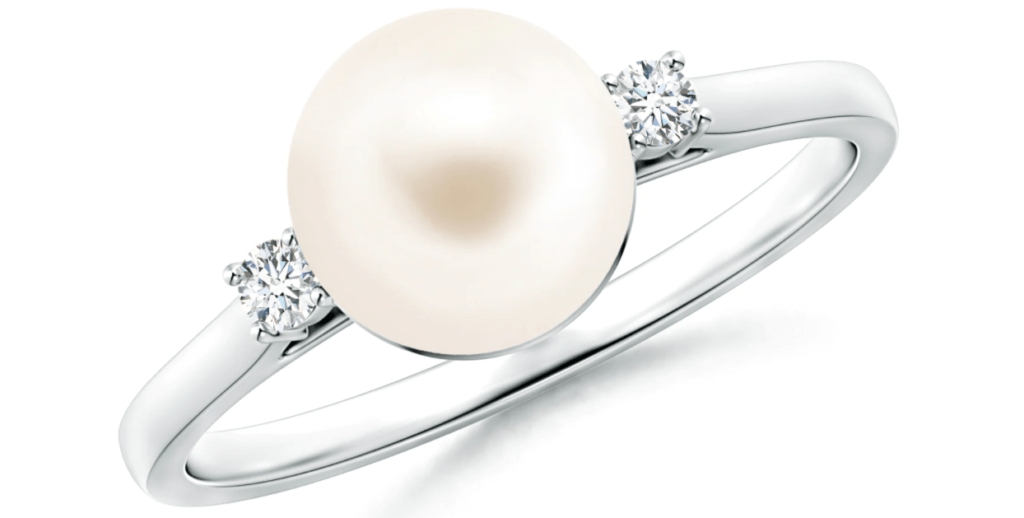 If you're in a quest for something minimalistic yet elegant, you can plump for the Freshwater Pearl Ring. A big round pearl center with two prong-set diamonds gives it a lively look and feel.
Features:
Round Freshwater cultured pearl
14k white gold
Two prong-set diamond accents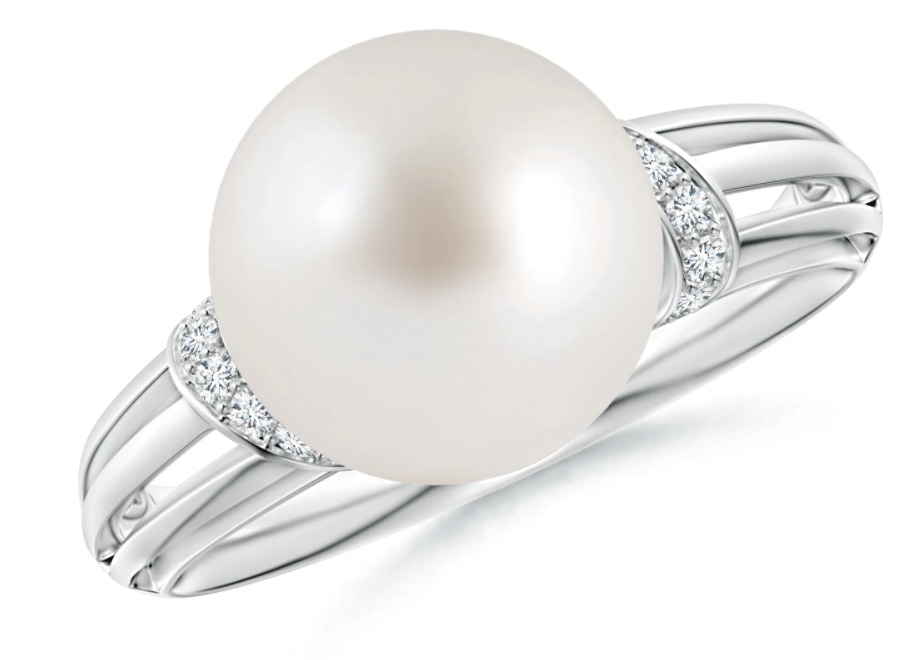 With an approximate weight of 7.20 carat, the South Sea Pearl Ring exhibits a remarkable pearl within a diamond-encrusted collar. Additionally, the pavé set diamonds around the pearl makes it an excellent choice for your engagement ring.
Features:
Highlights South Sea cultured pearl
Pavé-set diamonds in the collar lend
14k white gold
Stylish triple shank.
Ring with a Vintage Touch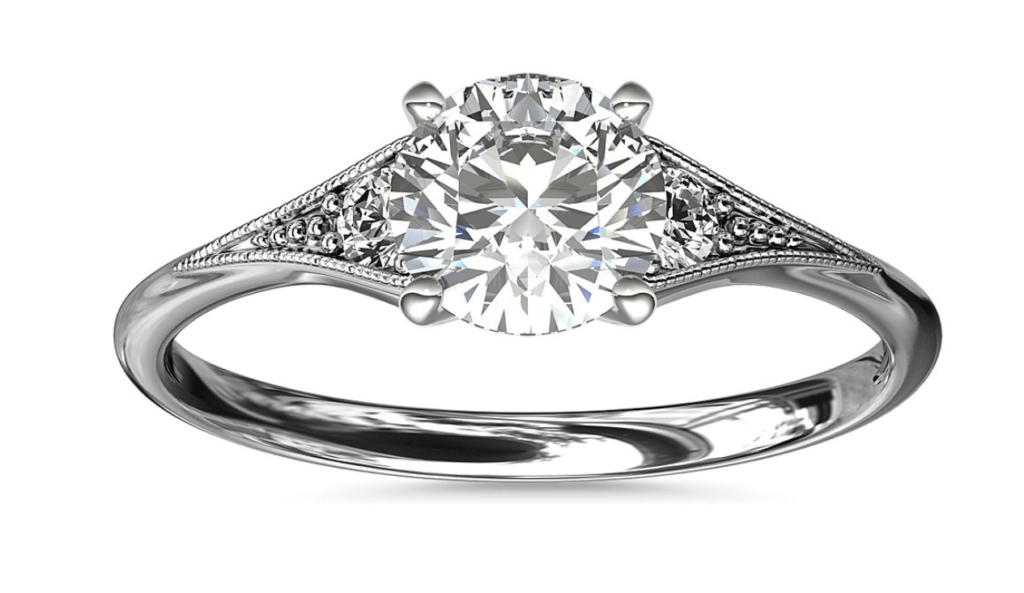 Does your fiance have a unique inclination towards vintage stuff? Then she will unquestionably love the Heirloom Petite Milgrain ring that emphasizes two pavé-set round diamonds with an artistic touch!
Features:
Vintage look
14k white gold
Possesses 2 pavé-set round diamonds
Approximately 0.06 Ct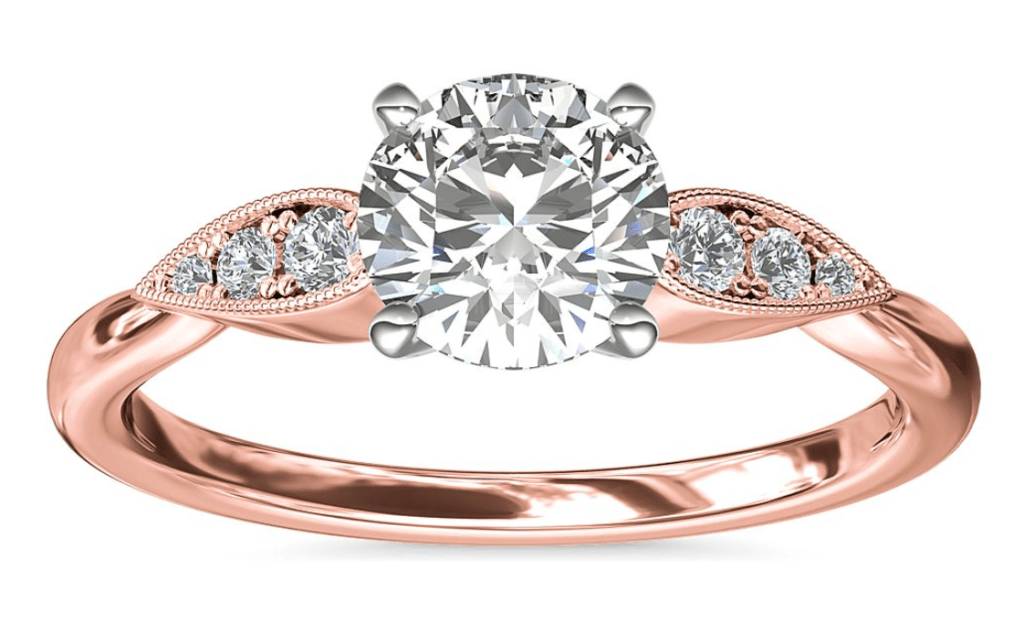 Weighing approximately 0.08 carat, the pear-shaped diamond engagement ring highlights dainty pear-shaped details. The ring holds three delicate diamonds on each side of the center stone and possesses an unprecedented appearance.
Features:
Approximately 0.08 Ct
14k rose gold design
Delicate pear-shaped traits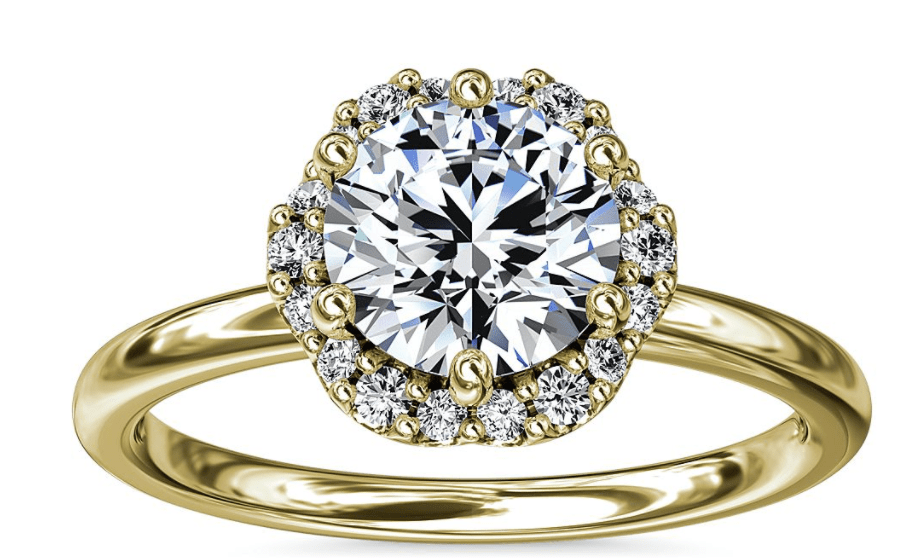 Wrapped in a striking 14k yellow gold, this ring possesses a center stone with a delicate floral surrounding it. A floral style Halo Diamond ring with a vintage finish- it's one of the most enthralling combinations that exist!
Features:
14k yellow gold
approximately 0.09 carat
six-prong setting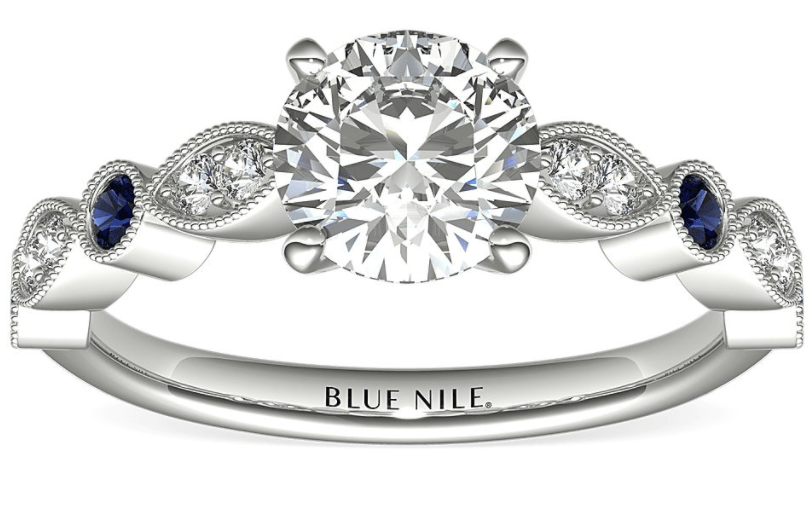 A ring that is crafted with the unification of Diamond and Sapphire can never go wrong! Your partner will definitely go head over heels with this engagement ring that features diamonds and blue sapphires set in a marquise and dot pattern.
Features:
approximately 0.10 Ct
4k white gold
Diamonds and blue sapphires set in a marquise and dot pattern
Or go for something Fancy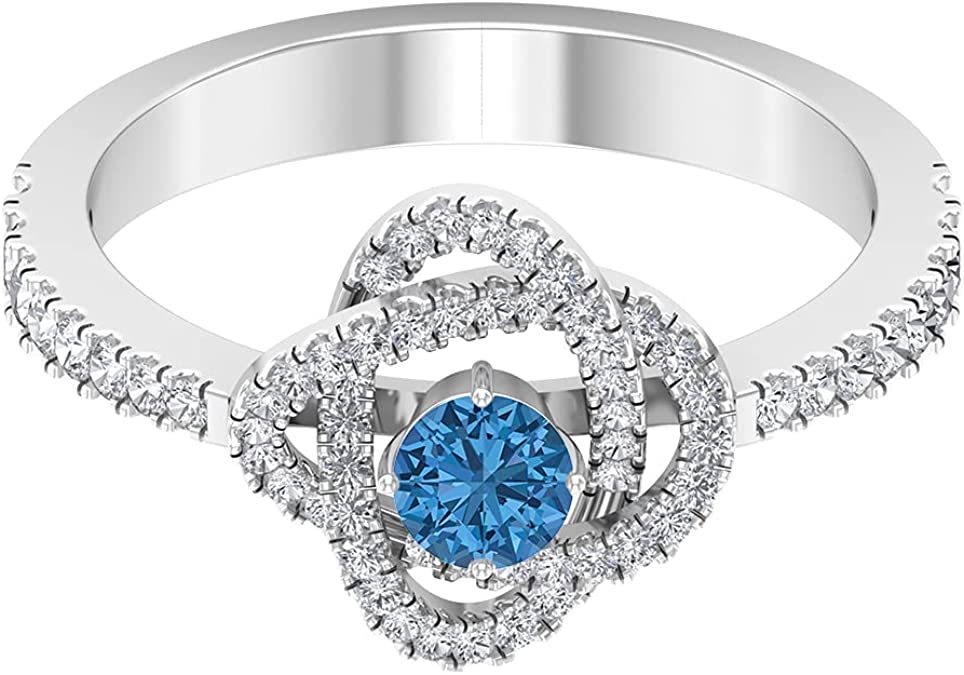 Here's the thing- you're partner might not like the idea of a "vintage ring". However, she'll definitely love the concept of a fancy ring! This stylish ring has a graceful design with Blue Sapphire and Diamond Accents over a Solid White Gold Shank.
Features:
Total 0.27 Gemstone carat
Available in White, Yellow, and Rose Gold
Fancy Design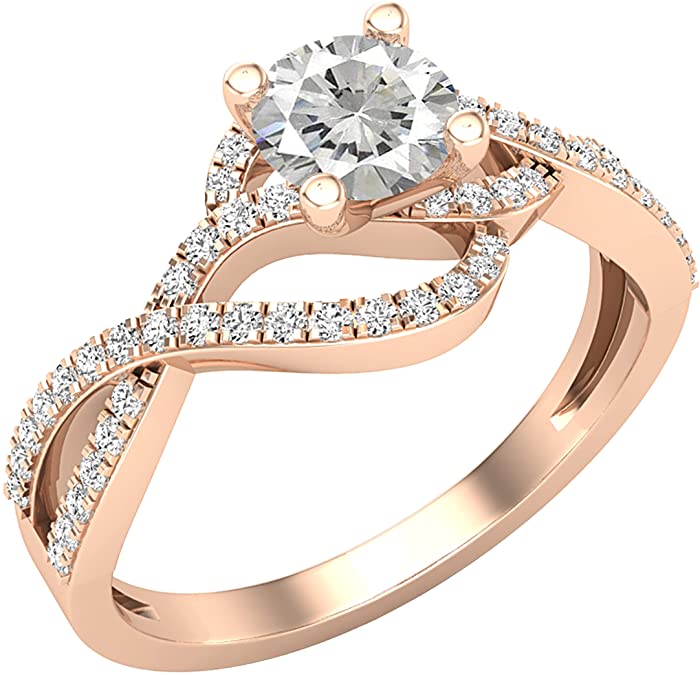 If you yearn to propose to your fiance with a unique and remarkable ring, this is the way to go. The stunning white Sapphire along with the sparkly White Diamonds can make anyone go WOW!
Features:
Approximately 0.36 carats
14k Rose Gold
Infinity Fancy Waves with White Diamonds
Stunning white Sapphire in the Center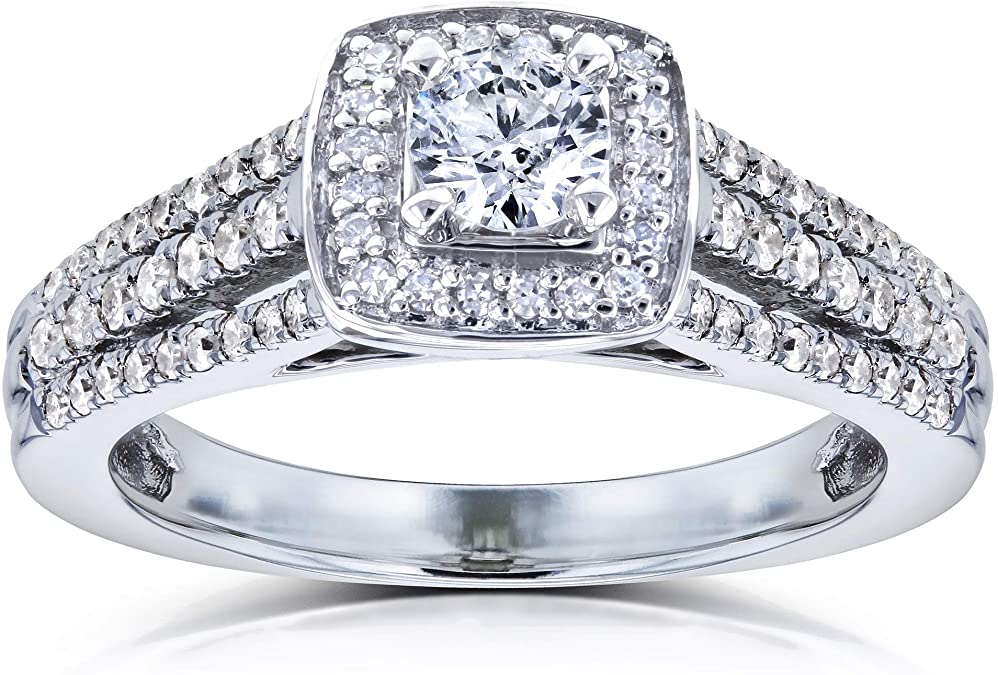 What if your partner prefers to have an engagement ring crafted purely with diamonds? Well, Kobelli's Diamond Engagement Ring can be the one to make her feel ecstatic! This diamond halo ring consists of over 80 natural earth mined diamonds with a one-fifth carat diamond right in the center.
Features:
Made with Solid 14k White Gold
Double Split Shank Multi-Row Band
Has over 80 natural earth mined diamonds
Made with 14-karat white gold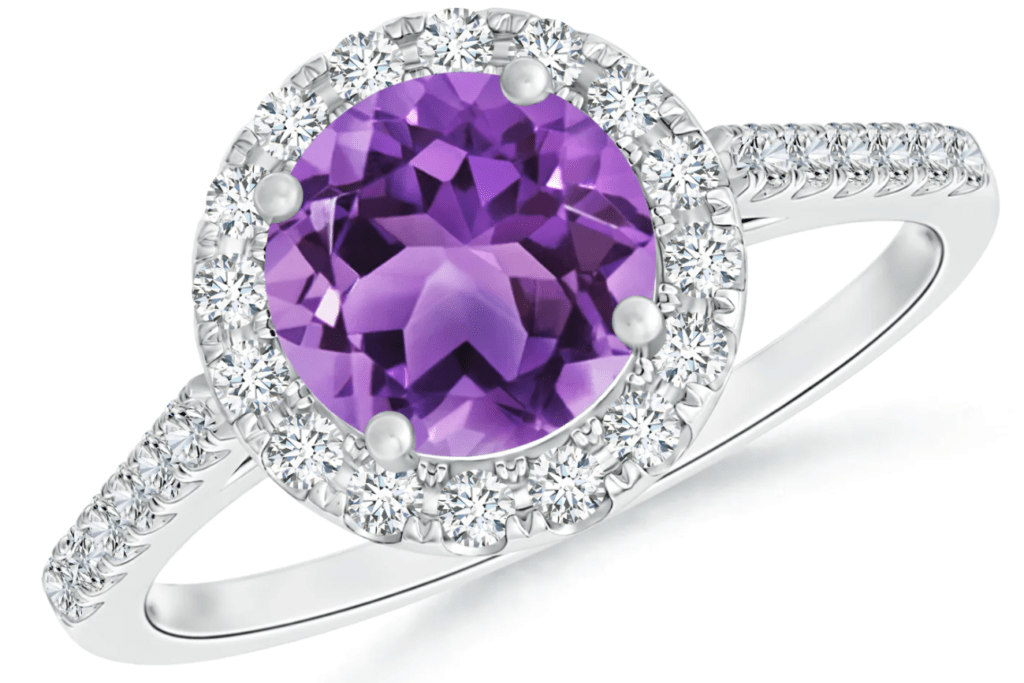 If you're searching for a ring that looks simple yet screams luxury, this is the one for you. This sparkling diamond halo surrounds the intense purple amethyst. Additionally, the shoulders embellish glistening diamonds for an added shine.
Features:
Highlights February Birthstone
Sparkling Diamond Halo
Purple amethyst in a prong setting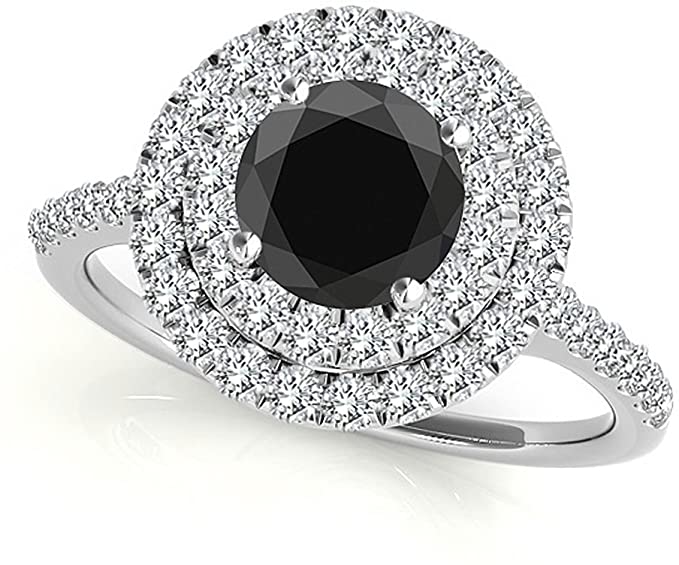 Take her breath away with this absolutely gorgeous black diamond ring. This Round-Cut Natural Diamond Solitaire Ring is made in solid 14k White gold and is an ideal choice for your engagement.
Features:
Approximately 0.1692-carat band
Center stone- 0.75 carat
14k White Gold
Round-cut natural diamond
So these were some of our recommendations for the best engagement ring you could gift to your love. Remember, this is the special moment she has waited eagerly for her whole life. Make sure you do it right <3
We only recommend products that we genuinely loved. However, when you buy something through our retail links, we may earn an affiliate commission.